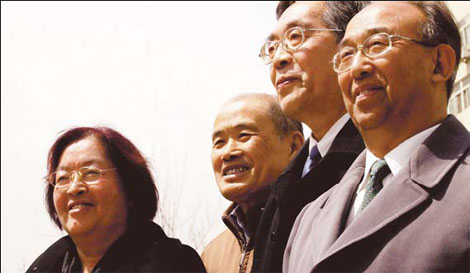 (From left) Zhong Shaoli, Bai Kaiyuan, Shi Jingwu and Dong Youchen, part of the 17-member translation team working on the complete works of Tagore. Jiang Dong / China Daily
Interviewing four of the 17-member team of wordsmiths now engaged in translating the complete works of Rabindranath Tagore proved to be a humbling experience. The translators - chief editor Dong Youchen, Bai Kaiyuan, Shi Jingwu and Zhong Shaoli - spoke in lucid, unadulterated Bengali while I was left groping for the right word in a language that is my mother tongue.
For the foursome who have taken upon themselves the dauntingly ambitious project of translating the complete works of Tagore - that's over 200 books of poems, lyrics, fiction, plays, essays, memoirs, diaries and letters - talking and writing in Bengali seems to have become a way of life.
Translating Tagore is almost a 100-year-old tradition in China. Chen Duxiu, one of the founders of the Chinese Communist Party, published four poems from Gitanjali (An Offering of Songs) in the efficacious journal Xin Qing Nian (New Youth) in 1915.
There then followed a surge of translations between 1915 and 1924, Tagore's first visit to China. The translators included literary heavyweights and rising stars such as Wang Duqing, Xu Dishan, Qu Shiying, Zheng Zhenduo, Bai Xiang and Mao Dun.
The Chinese translations were based, primarily, on Tagore's own English translations of the original Bengali versions. Although Tagore's translation of Gitanjali (with a bit of help thrown in by the Irish poet WB Yeats, who "discovered" and "presented" him to the West) won him the Nobel Prize for Literature in 1913, in subsequent years it was considered to be stilted, archaic and lacking in the nuance, ambiguities and evocative splendor that are the hallmark of the original.
Now, for the first time, Tagore's complete works are being translated directly from Bengali into Chinese by Dong Youchen and his team. The first five volumes, to be published by Renmin Publishing House, are due out in May 2011, to coincide with the 150th anniversary of the poet's birth, and all 24 volumes are expected to see the light of the day by 2015.
"This is an arduous task," says Dong, a professor at the Center for South Asia Studies, Beijing Foreign Studies University. "But it's a labor of love. All of us have day jobs but returning to Tagore's words at the end of the day is like an obsession."
Zhong Shaoli, who learnt Bengali at Beijing Broadcasting Institute and has worked in radio and publishing, seems to have internalized some of Tagore's poignant historical plays and short stories, while translating them. "I don't like Raajdhar," she says, speaking of the canny younger brother in the play Mukut (The Crown). "He's always hatching some conspiracy or the other. I do like Indra Kumar, but then he dies in the end."
Dong Youchen fell in love with the novel Noukadubi (Boat Capsize) when he was learning Russian and Bengali at the erstwhile Leningrad (now St Petersburg) University, way back in the 1960s.
"The protagonist, Ramesh, represents the poet's own ideals, his own upright nature and loyalty to his beloved," says Dong, giving the novel a thumbs up as Tagore's "most representative" work, even as popular opinion in China, he says, favors Gora, a novel exploring the idea of nationalism. "I knew I had to translate Noukadubi when I returned to China."
Shi Jingwu and Bai Kaiyuan were part of the first students' delegation to Bangladesh (then East Pakistan) from China in 1965. They won government scholarships to study Bengali at Dhaka's Bangla Academy. Later, both worked in the Bengali department of China Radio International, besides translating and writing on Tagore extensively.
Bai, who is also director of the Chinese Translation Association of China, says in the beginning he was too much in awe of the great man to attempt any translations of his works. But he eventually borrowed a copy of Tagore's Sanchayita (Selected Poems) and picked 300 poems/songs, the translations of which were published by Guangxi People's Publishing House in 1987.
Over the past 20 years, he has translated Tagore's works in every form - narrative poems, poems written in free verse, love poems, novels, sonnets, poems about children, essays, diaries and letters related to travel, memoirs, letters, and philosophical writings.
He is convinced that Tagore's poems about love, children and philosophical musings will stand the test of time. "These reflect his ideas about life, the world, nature and their intimate connections," he says.
"It's interesting to see how Tagore himself tackled the culture-specific words in his poems while translating. It's instructive," he adds.
China Daily
(China Daily 05/14/2010 page19)