There are a variety of training programs targeting the wealthy second-generation in China; courses ranging from financial statement analysis, international trade and the performance of listed companies, to golf, horse riding, ballroom dancing and Sinology.
The diversity of these dazzling offerings just goes to show that the country doesn't know how to educate the offspring of the rich.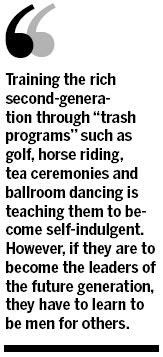 China's economy is still taking off, and the generation that "got rich first", have only amassed their wealth relatively recently. American families, such as Rockefeller and Ford, have enjoyed their spoils for more than a century. Educating the offspring of the rich has an even longer history in the Britain and Europe.
A recent report by Boston Globe looked at the education provided at Gonzaga College High School, an elite catholic school for boys in the city of Washington, which I think is very interesting. The school aims to mold its students into "Men for Others". All students must fulfill no fewer than 40 hours of community service for graduation. Although there's no rigid requirement on junior students, most of them have actively volunteered in community service. One major program is providing food for the homeless.
Most of the students were born in affluent families. They have heard of poverty but have never experienced it. By volunteering at the shelter, they are introduced to poverty first-hand. It sounds simple to provide food for the homeless, but for students aged 15 or 16, it's a big challenge. Many of the homeless are drug addicts, others have mental problems; it's very hard to deal with them. Some students volunteer at the center during lunch break, some opt to sleep there for one week, helping prepare food.
The report recounted how during the lunch hour, four freshmen scooped spaghetti from big tin foil trays and handed out warm slices of garlic bread to a line of men holding out plates, eyes down as they moved along. "How you doing today?" a 15-year-old boy asked as he ladled meat sauce onto slick piles of noodles. Sometimes a man would pause, and smile. "Not bad, not too bad." The boy knew about dignity.
This is the real education for the wealthy second-generation. Good fortunes are made by providing services for others, while understanding others is the first step to becoming rich. Rich parents, who are concerned that their children won't understand what they can do for others, can pay for an opportunity to let their children, who lead luxurious lives, see what real life is like for the majority of people and understand what is dignity and how to attain it. Research indicates that people who volunteer during their teenage years show a stronger sense of social responsibility when they grow up.
Training the rich second-generation through "trash programs" such as golf, horse riding, tea ceremonies and ballroom dancing is teaching them to become self-indulgent. However, if they are to become the leaders of the future generation, they have to learn to be men for others.
Xue Yong teaches history at the Suffolk University in the US.
(China Daily 05/10/2010 page29)