A vegetable vendor was killed during a scuffle at a wholesale market in northern Beijing on Wednesday, with the rising prices of beansprouts being partially blamed.
Wang Chengguo, who sells beansprouts at the Shuitun wholesale market with his wife, Teng Weijuan, was stabbed when he tried to stop a gang from wrecking his stall.
Teng told Beijing News that just before 7 pm on Wednesday, about 10 people began smashing their stall. Wang tried to stop them, but was stabbed in the stomach.
He was taken to Changping People's Hospital 20 minutes later in a private car after an ambulance failed to turn up. A doctor told METRO on Thursday that Teng was dead upon arrival at the hospital.
Police arrived at the scene 30 minutes after the stabbing and arrested a man, who had been detained by the victim's brother-in-law. The other gang members had run off.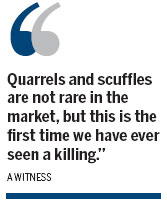 Teng said she believed the gang, armed with knives, iron bars and bricks, wanted to push her and her husband out because they wanted to monopolize the beansprout market.
Monopolies of produce are not tolerated at the wholesale market, but Teng said that with beansprout prices rising, someone is trying to resume the practise.
She said that several days ago, Wang had recorded in his diary that several men, whom he had never seen before, had come to register their names as wholesalers.
A watermelon seller, who saw the incident, said Wang would not have died if the ambulance, or the police, had come earlier. Another witness said: "Quarrels and scuffles are not rare in the market, but this is the first time we have ever seen a killing."
Wang Liming, vice-director of the administration section of the market, told Beijing News that while monopolies had existed at the market, there is now a strict market entrance system for all wholesalers and no monopoly is tolerated.
A staff member from the administration, who declined to be named, told METRO that it would not deploy more personnel to prevent such tragedies from happening again.
"We will reinforce the administration especially in terms of the regulations."
Liang Xiaohui, a professor with Peking University law school, said local wholesale markets generally lack discipline, and there are many loopholes for vendors to explore.
"We have relatively strong laws to regulate transactions at markets, but unfortunately, few of them work at lower levels such as wholesale markets," he said.
China Daily
(China Daily 05/07/2010 page25)