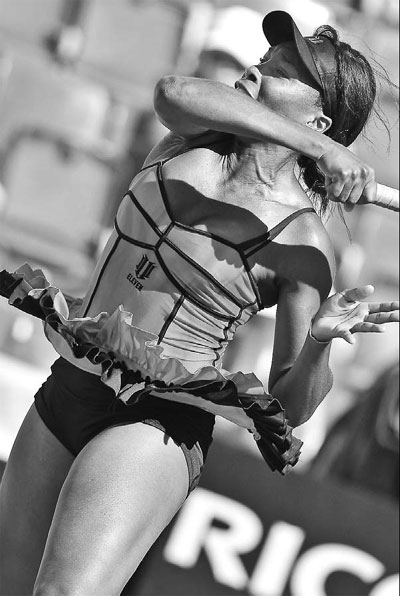 Venus Williams returns to Israel's Sahar Peer during their match at the WTA Rome Open on Wednesday at the Foro Italico. Williams defeated Peer 6-3, 6-4. ANDREAS SOLARO / Agence France-Presse
Bubbly Serena and Venus aiming for semifinal showdown at Foro Italico
ROME - Williams sisters Serena and Venus have been a breath of fresh air at the Rome Open but more so for their off-court rather than on-court antics.
The pair remained on course for a semifinal meeting on Friday by winning their third-round encounters on Wednesday.
World No 1 Serena beat German Andrea Petkovic 6-2, 3-6, 6-0 and will face Maria Kirilenko in the last eight while Venus disposed of 16th seed Shahar Peer 6-3, 6-4 and faces seventh seed Jelena Jankovic next.
Their on-court success is nothing new but the most famous tennis sisters of all time have long had a reputation for being sultry and unresponsive in post-match press conferences.
Not in Rome, though, where they seem relaxed and even keen to enjoy themselves.
Serena, for one, joked about what she had given up in order to come to Rome and begin her French Open preparations.
"Right now I was supposed to be at the Met Ball in New York with Anna Wintour (editor in Chief, Vogue USA) and Oprah Winfrey," she said.
"I was supposed to be there. I had a fabulous dress or gown that I was going to wear.
"After that I was going to go to the Time 100 as I was chosen as one of the 100 most influential people last year.
"Unfortunately, or fortunately, I said 'I'm going to try to play Rome' and so I skipped Oprah and Anna Wintour and it hurts me.
"It hurt my soul because I really wanted to be there but this is my career and I really needed the extra match. But, I'm very sad."
Having previously described herself as cheeky in a pre-tournament press conference, this time she promised to be "sexy" in her next match.
When told how Serena was describing herself, Venus was not to be outdone.
"Maybe you should ask her how to describe me seeing as she seems to be having these unbelievable press conferences," she said.
"Maybe I should come along to the next one. I don't know, I think I'm funny and cool."
Back to matters of a competitive nature, Serena was asked if four-time French Open champion Justine Henin was the equivalent to her that undisputed clay king Rafael Nadal is to men's world No 1 Roger Federer.
But Serena, who is known to not be Henin's biggest fan, claimed it was someone else closer to home.
"No, I'd definitely say that Venus is. I have never played someone as tough as her, she's unbelievable," she said with nepotistic defiance.
"It seems always to be 7-6 in one of the sets, usually in the third and Doha was a perfect example of a 2 1/2 hour grind, it was insane."
Venus, though, preferred not to make comparisons with the men.
"I'm Venus and she's Serena and that should be good enough," she stated.
Agence France-Presse
(China Daily 05/07/2010 page23)