Cycle lanes in Beijing are often clogged with parked cars and pedestrians. [Wang Jing / China Daily]
With trees budding, longer evenings (and sunny ones too) and milder climates finally gracing the capital, it's a perfect time to hop on a bike and go for a ride.
Although the days of the bike as the most popular form of transportation in the city are long gone and nostalgic images of flocks of riders pedaling en masse through intersections as the lights change are a thing of the past, the bicycle is still an excellent way to experience Beijing.
It's no two-wheeled utopia here, to be sure, and cyclists face formidable challenges when they take to the streets.
Beijing drivers can be manically aggressive and cyclists in the city can be sideswiped or cut off at any time.
And the capital's considerable traffic congestion means that many bike rides around the city, especially those that include rolling along some of the ring roads or other major traffic arteries, involve sucking back a sickening amount of exhaust fumes.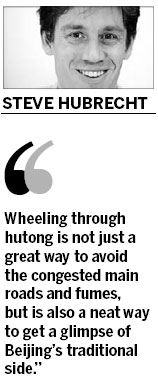 Cycle lanes (of which there are many) are unfortunately often clogged with parked cars, pedestrians, parked electric scooters and people selling fruit from horse carts. Navigating through all this is no easy feet.But it is by no means overwhelming either. If cyclists make sure to keep an eye out for errant cars, wear helmets and pedal more carefully than they would in other places, they can mitigate the danger posed by thoughtless drivers.
Masks are available to reduce the lung-searing damage inflicted by car emissions and cyclists can plan their route to cycle down smaller streets and hutong, where there is much less traffic and, correspondingly, much less exhaust.
Riders can also negotiate jam-packed bike lanes with a bit of patience and a loud bell. These aren't perfect solutions to the obstacles laid out above, but they certainly help make biking more enjoyable.
Once would-be cyclists get over their worries, they will find there is a lot to enjoy about rolling around Beijing. The city's utter lack of any kind of topography makes turning the pedals a breeze. There's not even so much as a gradual incline and riders can coast from one end of the city to another with any extra exertion.
Wheeling through hutong is not just a great way to avoid the congested main roads and fumes, but is also a neat way to get a glimpse of Beijing's traditional side. The twisting alleyways, which sometimes dead end with no warning or spit riders out in unexpected locations, are a treat to roll around aimlessly, with cyclists never entirely certain what lies around the next corner.
Biking is also a surprisingly fast way to get around Beijing. The extra time it often takes to hail a cab, sit stuck in traffic, wait for the bus or walk to the nearest subway station, descend into it and catch the next train, means that biking is almost as fast as, if not faster than, any other transportation option for short and medium-distance trips across the city and occasionally even longer ones. Cyclists often sail past commuters trapped in their idle cars.
Riding a bike is also good exercise and, with a big basket on front, is the easiest way to visit nearby markets to pick up some produce. With the temperature finally conducive to such activities, there's no excuse not to get rolling.
(China Daily 05/06/2010)