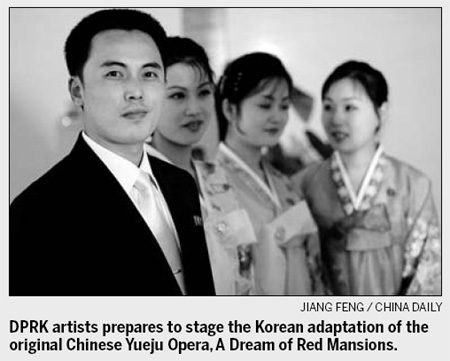 The Sea of Blood Opera Company from the DPRK will perform four shows of its latest production, A Dream of Red Mansions, at Beijing's BTV Theatre from Thursday to Sunday.
DPRK's late Chairman Kim Il-sung initiated a Korean adaptation of the original Chinese Yueju Opera show in the 1960s. Chinese Premier Wen Jiabao was invited by current DPRK leader Kim Jong-il to watch the show when he visited Pyongyang last September.
"We've performed more than 50 shows in front of some 100,000 people - both senior citizens who watched the opera in the 1960s and for the youth who are not familiar with the story," Kim Yong-rok, production director of the company, told China Daily.
The six-act show combines Korean folk melodies and instruments with Western symphonic orchestra. The performers' costumes and make-up look almost the same as China's 1987 TV production of the same masterpiece. All the leading performers are in their twenties and graduated from the Pyongyang Kim Won-gyun Conservatory.
Kim Il-hwang, 29, the winner of DPRK's national singing contest, performs the lead role of Jia Baoyu. His grandfather once performed the role in the 1960s and performed in front of China's late Premier Zhou Enlai.
Director Cae Myong-sok, 59, said: "The old version was state of the art at that time and people enjoyed it very much. In the new century, we apply the latest theatre techniques and costumes to revive the show in a trendy way."
The company will tour Hohhot, Wuhan, Changsha, Fuzhou, Shenzhen and Chongqing after its performance in the capital.
Chen Jie
(China Daily 05/05/2010 page11)