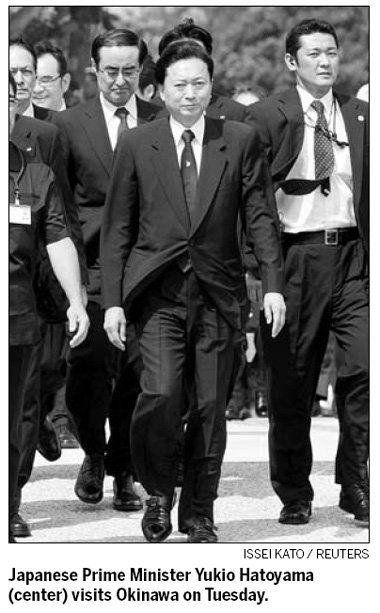 TOKYO/OKINAWA - Japan's prime minister said Tuesday that it will be impossible to move all parts of a key US Marine base out of Okinawa, breaking with past promises to relocate the facility outside the southern island.
It was the first time since Yukio Hatoyama became prime minister in September that he officially acknowledged that at least part of Futenma US Marine Corps airfield would remain in Okinawa, which hosts more than half the 47,000 American troops based in Japan under a security pact.
He urged Okinawans to accept a plan to keep at least part of the controversial US base on the island, risking a further blow to voter support ahead of an election.
The feud over shifting the Futenma Marine base has shaken ties with Washington and contributed to Hatoyama's tumbling support rates ahead of the upper house election his Democratic Party must win to avoid policy deadlock.
On his first visit to Okinawa since taking office, the premier said he wanted local people to accept a plan that would keep some of Futenma's facilities within the prefecture, apologizing for the burden this would cause.
He did not give details of the government proposal, but said moving the whole base off the island had proved difficult from a deterrence perspective.
Hatoyama's comments essentially signal that he is shifting back toward the 2006 agreement, which calls for Futenma's facilities to be moved to near Nago, in the northern part of the island. On Tuesday, hundreds of demonstrators gathered outside the city hall in the island's capital of Naha demanding Hatoyama keep his promises.
"From before the election, he was promising to move the base out," said 48-year-old Chikako Toguchi of Nago.
"That's why I and a lot of my friends voted for the Democrats. If it turns out he just said that to win the election, he has made fools of the Okinawans," she said.
Reuters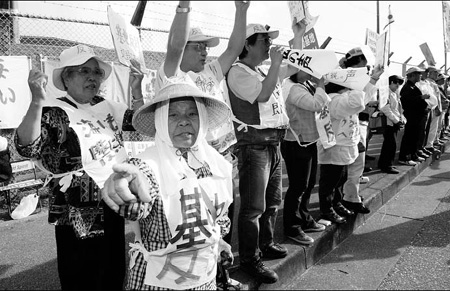 Local residents protest against the US base while Hatoyama enters the US Marine Corps' Camp Schwab on the southern Japanese island of Okinawa on Tuesday. Issei Kato / Reuters
(China Daily 05/05/2010 page11)