American coach takes charge of national side full of confidence
BEIJING - American Bob Donewald Jr, the newly-appointed head coach of China's national men's basketball team, is ambitious to build a team of solidarity and great fighting spirit.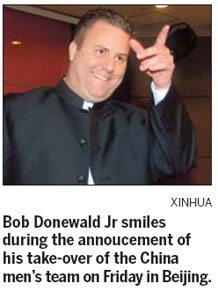 "It really excites me. I'm very proud to be China's national coach. I know this is a very difficult time for Chinese basketball but I'm extremely confident I can make everyone proud of this team to build a united team, a disciplined team," Donewald, who will remain the head coach of the Shanghai Sharks - for now, said at the press conference to announce his appointment on Friday.
"I'm not going to pick the most talented players but those who will feel extremely proud to put on the uniform with a national flag on it, who would die for their country," he said.
According to the sport's ruling body, Donewald, former assistant coach of New Orleans Hornets and Cleveland Cavaliers in the NBA, was favored by the selection panel over Australian Brian Goorjian of Dongguan Leopards and local coach Li Chunjiang, who leads Guangdong to seven CBA titles in the past eight year.
Under the American's guidance, the Shanghai Sharks made it to their first CBA semifinals in eight years.
The first task for Donewald on the world stage, August's World Championships in Turkey, is expected to be a tough baptism as Houston Rockets' All-Star center, Yao Ming, will not be available due to injury.
"I know we are going to play without Yao and a lot of veterans are coming to the end of their careers. We have to develop the young players and they don't have too much experience now, " Donewald said. "I believe we will have some losses but I promise we will learn from those losses. I'm asking the fans for their help and patience. I believe the whole country will go wild for the team and love it deeply."
Donewald has become the third foreign coach of China's national basketball team after his compatriot Del Harris, who took over the team in 2004 and led it to eighth place at the Athens Olympic Games, and Lithuanian Jonas Kazlauskas, who was in the position from 2004-08.
Donewald's predecessor, Guo Shiqiang, was named as an assistant.
China Daily
(China Daily 05/01/2010 page24)