Mobile payment market hurt by weak demand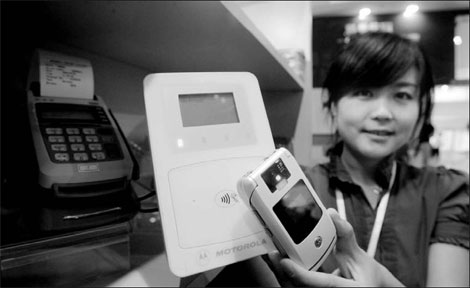 A woman holds up an intelligent handset (foreground) and a receiver device during a financial expo in Beijing last year. The handset combines the payment and SIM card together, which can be used to book tickets, shop online and make payments. Xiao Liang / for China Daily
Stumbling blocks include scattered 3G use, varying technology standards
BEIJING - In a country with over 700 mobile phone users, exploring the mobile payment market may appear lucrative. And that may explain why telecom operators, banks and technology firms - from home and aboard - are aggressively pushing their services in China's mobile payment industry.
As a payment alternative to cash, checks or credit cards, making mobile payments ranging from mobile banking to mobile credit cards to mobile commerce via a 3G phone is widely gaining acceptance in Asia and Africa, as well as select European markets.
However, Chinese consumers are slow to adopt mobile payment services, at least in the short term. Analysts predict that strong user growth may not come for years.
According to Beijing-based telecom consultancy Maverick China Research, 75 percent of mobile phone users in China don't have access to mobile payments. Of the 25 percent that do have access, less than 2 percent actually use it to conduct transactions.
"Users demand is the major force behind any nascent industries but the big problem in China's mobile payment industry is that the user demand has not been identified and exploited," said Cao Fei, an analyst from research firm Analysys International.
He said competition between telecom operators and banks for a dominant role in the new industry may also thwart the development of mobile payments in China.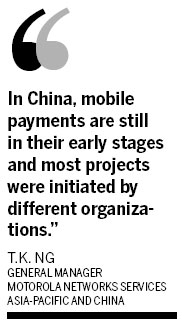 The technology did not grab public attention in China until the authorities began issuing 3G licenses last year.
China Mobile, the country's biggest cellphone operator, announced last month it inked a deal to buy a 20 percent stake in Shanghai Pudong Development Bank for 39.8 billion yuan to enter the mobile payment industry. China UnionPay, an inter-bank credit card organization, also announced plans earlier this year to launch trial mobile payment services in seven selected cities, including Shanghai, Shenzhen and Changsha.
"In China, mobile payments are still in their infancy and most projects were initiated by different organizations - in some cases it is a telecom operator and in others it is a bank," said T.K. Ng, general manager of Motorola networks services in the Asia-Pacific and China.
The company partnered with China UnionPay and China Unicom to provide mobile payment services in Changsha, Hunan province, earlier this month through its iSIM solution, which is based on a flexible wafer that can be attached to the subscriber's original SIM card.
Cao from Analysys added that different telecom operators and banks are using various technology standards, which further inconveniences end users.
Meanwhile, retail outlets looking to capitalize on potential growth in the market are seeing poor results.
"During the past few months we only had one consumer who paid their bills via mobile phone," said Hao Shanhong, a cashier at a MerryMart supermarket in Beijing.
Although the supermarket chain upgraded about 25 percent of its point-of-sale machines to support mobile payments, few users tried the service due to the lack of 3G handsets and the complicated transaction process, Hao said.
Under the terms of a January agreement between WuMart Stores and China's biggest cellphone operator China Mobile, subscribers equipped with RF-SIMs card will be able to use their phones to make payments, collect loyalty points and recharge their account balance at 300 WuMart and MerryMart supermarkets in the Beijing area.
China Daily
(China Daily 04/29/2010 page16)
Today's Top News
Editor's picks
Most Viewed