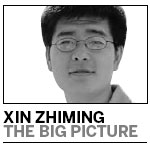 As criticism of its yuan policy temporarily subsides, China is facing a war on a new front: Rare earth metals.
Led by the US Government Accountability Office, voices from the US media and industry recently attacked China's rare earth policies, claiming that the nation's control of rare earth metals, critical in making things from advanced weaponry to hybrid cars, threatened its key industries such as defense.
Indeed, China has imposed export quotas on rare earth metals, because, for one thing, domestic tapping of those metals has been almost out of control, often damaging the environment in rare earth areas. The low prices, meanwhile, cannot match the value of the product.
Protests from those Western media outlets and industry spokesmen would have been understandable if China was the sole owner of the globe's rare earth resources. But the fact is that it is not.
China has the largest natural reserves of rare earth, about 24 percent, with the United States being the second largest.
Other countries, such as Australia, India, Canada and South Africa also have large rare earth reserves.
China has become the target of criticism because it is currently the world's biggest producer of rare earth metals.
Countries like the US have long halted tapping this strategically important material in order to protect the environment and conserve resources.
Instead, they turn to the international market - China in this case - for supply of the metals.
Interestingly, one of the major reasons these people in the US went on the offensive this time was that "China's pricing of these metals is so low that it has become unprofitable for mining companies in the US and other Western countries to mine and process them".
It could be the first time in the history of commerce that the buyer has cried foul against low prices!
They have benefited a lot from China's low prices for its rare earth metals - the precondition for them to pile up reserves.
Obviously, they simply want to continue the same old game, in which they can import the precious metals at low prices.
Suppose China continues to export rare earth at the current pace.
It is estimated that China would tap all its rare earth reserves within 30 years if its current pace of exploitation continues - China would have to buy them on the international market, or from those who are accumulating the resource by ordering from China cheaply.
And prices then? Soaring iron ore prices could be a good reference.
xinzhiming@chinadaily.com.cn
(China Daily 04/28/2010 page14)