Sinosteel to buy iron ore from Brockman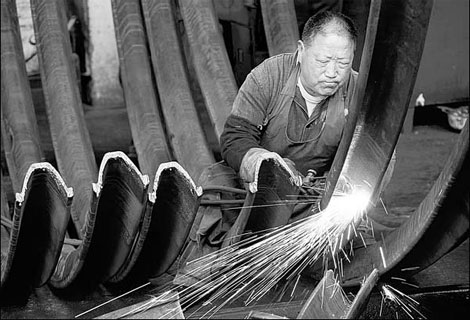 A worker cut steel bars at a mill in Huaibei, Anhui province. Wu He / for China Daily
Australian deal to help firm secure raw material for Chinese steel mills
BEIJING - Iron ore trader Sinosteel Corp has agreed to buy future production from Australian miner Brockman Resources Ltd to secure raw material supplies for Chinese steel mills.
Sinosteel, China's largest iron ore trader, will buy 10 million tons of iron ore every year, about half the output from Brockman's Marillana project in Western Australia, over an initial five year period, the Australian miner said on Tuesday.
The purchase agreement confirms technical acceptance of final product grade of between 60.5 to 61.5 percent iron content. Based on Macquarie Bank's recent estimate that BHP Billiton sold iron ore to Asia at about $120 a ton for the April to June period, the deal is worth $6 billion over five years.
The definitive feasibility study of the Marillana project is likely to be completed during the third quarter of this year.
Brockman Managing Director Wayne Richards said the off-take agreement "also allows for a wider strategic investment discussion between the two groups, without limiting the possibility of other corporate or joint venture scenarios".
"Our company is keen to cooperate and partner with Australian companies on credible projects seeking to leverage our capability to supply raw materials for China's steel industry, be it iron ore, manganese, chrome ore or coal," said Li Ying, managing director, Sinosteel Australia.
The Marillana project may be the largest junior iron ore project in Australia, Brockman said in the statement.
With spot iron ore prices surging and long-term price negotiations stalling, Chinese companies have been shopping for overseas mining assets to bolster raw material supplies and reduce dependence on giant miners like Rio Tinto, BHP and Vale.
Australia exported 260 million tons of iron ore to China in 2009, accounting for 41.8 percent of the nation's total annual ore imports.
Imports of Australian iron ore into China reached 24 million tonnes in March, up 22.39 percent from a year earlier and 16.85 percent since February, according to Customs data.
Sinosteel first became actively involved in the Australian resources sector with the signing of the Channar Mining joint venture agreement with Hamersley Iron in 1987 and acquired a 40 percent stake in the Channar iron ore mine in the 1990s.
The Chinese company also made a successful $1.36 billion bid for Australian mining company Midwest a couple of years back and the venture started its first shipment of iron ore in December 2009.
In June, Sinosteel won approval to mine ore at Koolanooka in Western Australia.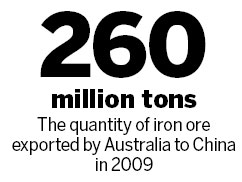 As a raw material supplier and sales-agent for major Chinese steel mills, Sinosteel imported 40 million tons of iron ore in 2009. With established iron ore and chrome ore resources bases in Australia and South Africa, the ore trader now aims to further expand its overseas footprint.
Sinosteel President Huang Tianwen said earlier this year that overseas business would account for nearly 50 percent of the total sales. The company reported revenue of 155.2 billion yuan in 2009.
China Daily
(China Daily 04/22/2010 page13)
Today's Top News
Editor's picks
Most Viewed