Spring clean-up for Mt. Qomolangma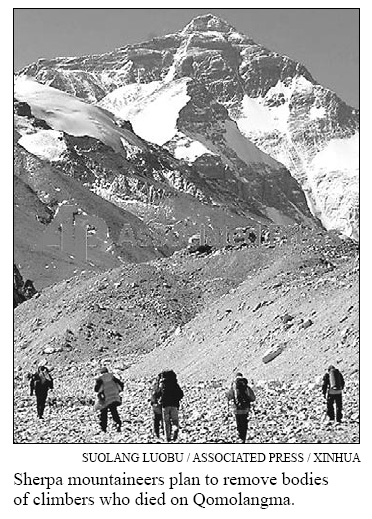 KATHMANDU - Twenty Nepali climbers are setting off to Qomolangma this week to try and remove decades-old garbage from the mountain in the world's highest ever clean-up campaign, organizers said on Monday.
Many foreign and Nepali climbers have cleaned Qomolangma, also known as Mount Everest, in the past, but Namgyal Sherpa, leader of the Extreme Everest Expedition 2010, said no one had dared to clean above 8,000 meters (26,246 feet), an area known as the "death zone" for the lack of oxygen and treacherous terrain. Some 300 lives have been lost there since 1953.
Namgyal Sherpa and his team of seasoned climbers, carrying empty rucksacks and special bags, will risk the zone's thin air and freezing temperatures to pick empty oxygen bottles, gas canisters, torn tents, ropes, and utensils lying between the South Col and the 8,850 meter (29,035 feet) summit.

Today's Top News
Editor's picks
Most Viewed