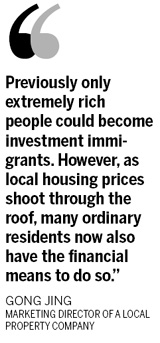 An increasing number of companies are trying to entice well-heeled Beijingers who want to live overseas with the idea of gaining permanent residency in foreign countries by buying expensive property there.
Dozens of realtors selling foreign homes at the recent Beijing Spring Real Estate Trade Fair offered customers the prospect of permanent residency in the United States, Canada, Australia, Singapore or Thailand.
One of these property companies, Big Elk Resort, said it will help investors who buy $500,000 condominiums near a US national park get a US green card, according to the Beijing-based Mirror Evening News.
The paper reported that many visitors at the international area of the fair were interested in living overseas.
The paper said that Canada and Australia were the two most popular destination countries for prospective buyers with intentions to live overseas, followed by the US and Singapore.
According to the paper, staff at one company told visitors that local homeowners can easily afford to buy a home in Australia and move there, if they sell their apartments in the Beijing.
"Previously only extremely rich people could become investment immigrants. However, as local housing prices shoot through the roof, many ordinary residents now also have the financial means to do so," said Gong Jing, marketing director of a local property company.
Gong said that many pensioners own homes allocated by their former employers, homes they inherited properties or homes bought for them by their children as gifts.
"So they may find it desirable to sell an extra home and experience a different way of life," Gong said.
Although realtors at the fair seemed to have no shortage of prospective customers interested in emigration, some analysts cautioned that buying property in a foreign country and getting permanent residency there do not necessarily go hand-in-hand.
METRo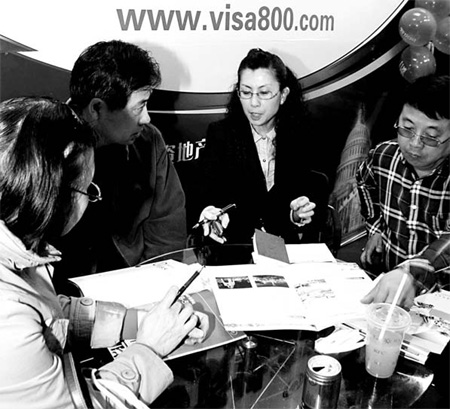 Some property companies said it will help investors who buy properties in the US worth a certain amount of money get a US green card. Zhang AiDong / For China Daily
(China Daily 04/19/2010)