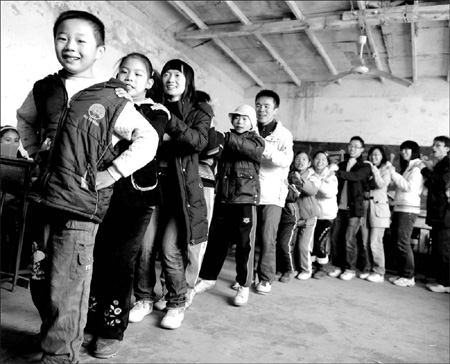 While local parents worry about how to get their children into elite schools in Beijing, migrant workers' children face restrictions on registering for most public schools citywide and on taking exams in the capital.
Migrant workers say obstacles facing their children amount to educational discrimination
A month before her son's sixth grade graduation exams, Yang Yuanqing's foremost concern is not her child's grades. Instead she is worried about where her son will go for middle school this autumn or if her son will get to go at all.
"The education authorities asked us for seven hard-to-get documents from seven different government institutions before the middle school slots open in May. There is no way parents like us can get all of them in time," said the 43-year-old mother, who was visibly upset.
"The authorities are deliberately holding us up," added Yang, who works as a domestic helper and who came to Beijing from Henan province 20 years ago.
Yang is just one of a huge number of parents who must make Herculean efforts to register their children for schools in the capital because they don't have Beijing hukou (permanent residence).
May is a crucial month for parents wishing to register school-age children at the city's more than 2,000 schools, which allocate seats for nearly 300,000 students each year. The municipal education authority also announced this year's enrollment guidelines on Thursday.
While local parents worry about how to get their children into elite schools in Beijing, migrant workers' children face restrictions on registering for most public schools citywide and on taking exams in the capital.
Children without hukou are not allowed to enter public schools without proper documentation, which is often extremely difficult for most migrant workers to obtain. They are also not allowed to take university entrance exams in Beijing. But children with hukou often easily get into middle school, even if they have poor grades.
The capital's permanent residence system affects over 400,000 children aged 6 to 18 in the city with migrant worker parents.
Migrant workers' children account for only a quarter of the total number of students in the capital, despite accounting for much more than a quarter of school-aged children in the city, according to official statistics.
"It's unfair that Beijing authorities hoard the city's rich education resources for the powerful elite class," said Li Jinxing, one of a group of lawyers representing migrant workers seeking equal education rights for their children. "They fail to allocate the resources fairly among all residents, particularly ignoring new residents who migrate into the capital."
Hukou, which are literally just small red-covered family record books that permit families and their offspring to live in Beijing, guarantee permanent residents of the capital privileges in employment, housing, social welfare and education.
Families without hukou who want the same privileges must either be recruited by the government from other regions or gain the documents through the black market, which usually costs more than the annual income of an average Beijing family and are hard to get even then.
"The authorities have set up unnecessary restrictions rules hindering our children's education, even though the education authority wouldn't dare publicly say flat out that they don't want to accept children without Beijing permanent residence," said Zhang Dongcui, who eventually got her 15-year-old daughter into a public high school last year after repeated visits to education officials and schoolmasters in Beijing.
The discrimination against the estimated one million migrant worker families in Beijing is an open secret and has led to a growing number of corruption cases involving school officials arranging spots for migrant workers' children in return for cash, say scholars and lawyers who have studied the issue.
"If we don't pay the so-called 30,000-yuan 'education fund' to local middles schools, my son will not have a school to go to," said Yang.
Yang recently joined a petition of nearly 2,000 migrant worker parents demanding equal educational opportunities for their children. The campaign, which only started two weeks ago, has grown quickly.
"Our children have been constantly discriminated against in schools and I urge the authorities to open the door to equal education rights for us," Yang said firmly.
A group of migrant worker families has also been negotiating with municipal and district level education authorities since mid-March to make it easier to get their children into primary and middle schools.
The municipal education commission on Thursday released this year's public schools enrollment guidelines, stressing local schools to give equal opportunities for the 430,000 migrant students in Beijing.
Luo Jie, the commission's deputy director, said that Beijing plans to include all migrant students "equally" in Beijing's public schools enrollment by 2012. Eighty percent of migrant students in Beijing will have no problems getting into public schools by that time.
But even if the municipal education authority propose items that promote equal rights among all school age children in Beijing and get approval from the municipal authority, district level education authorities and local schools can still keep their privileges to take in or reject migrant students, education officials said.
Zhang Kezhen, an equal education rights campaigner and headmaster of a private school for migrant workers' students, said if negotiations fail to persuade authorities, parents should try filing lawsuits against the local authorities.
Li Fangping, a Beijing-based lawyer, said a group of volunteer lawyers and scholars are considering doing just that. "We will try to raise attention to protect the interests of migrant workers in big cities such as Beijing," the lawyer said.
China Daily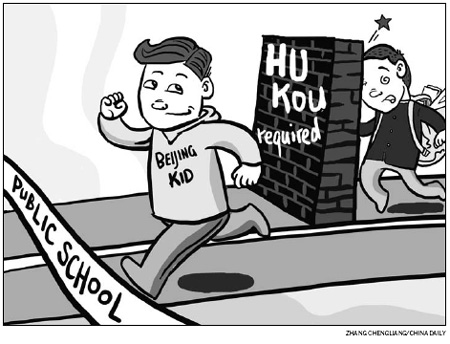 (China Daily 04/16/2010)