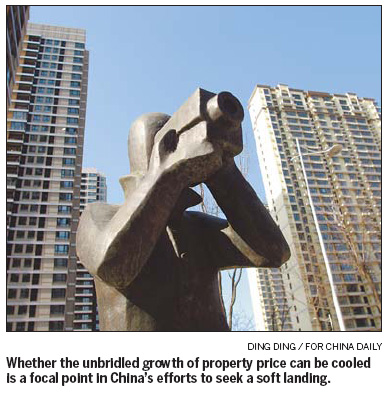 BEIJING - After the mayhem, order seems to be returning to the nation's property market as the monthly price growth rate slowed in March, an indication that the government's tightening measures are finally bearing fruit.
Property prices in 70 of China's large and medium-sized cities rose 11.7 percent year-on-year in March, the National Bureau of Statistics (NBS) said on Wednesday.
That topped the 10.7 percent increase recorded in February and the 9.5 percent increase in January. It was also the biggest year-on-year increase for a single month after the NBS expanded its coverage ambit to 70 cities in July 2005
However, the growth rate, an indicator of the short-term trend, slowed by 0.2 percentage points in March than the previous month, the second drop in a row this year.
"The sharp increase in March was partly due to the low base of last year when the overall market remained weak due to the global recession. The lower growth rate, however, means that the government policies are slowly making an impact," said Danny Ma, senior director of CBRE Research China, a real estate researcher.
The government launched a slew of measures late last year to curb excessive property price growth in some cities. These measures included rules on taxation, credit and land supply.
"The growth rate is sliding, but prices may continue to rise until the demand supply imbalance improves," said Ma.
Developers had deferred construction of new projects till the fourth quarter of last year due to the global financial crisis. But with the recovery beginning to take shape and the realty market sizzling, it led to a demand-supply imbalance and resulted in sharp price hikes.
Qin Hong, a senior researcher with the Ministry of Housing and Urban-Rural Development, said the imbalances would be ironed out soon.
Joan Wang, associate director of Research & Consultancy at Savills Beijing feels that April would be a better determinant of the realty trend due to seasonal factors. Given the Spring Festival in February and annual sessions of China's top legislature and political advisory body in March, property transactions during these two months are normally low.
According to the NBS data, Haikou, the capital city of Hainan, showed the biggest gain last month, with a 53.9 percent jump in property prices. Sanya, also in Hainan, was the next with a 52.1 percent increase. Property prices in Hainan rose sharply following the government's plan to reshape the island as an international tourist hub.
Property sales during the first three months of the year surged 57.7 percent to 797.7 billion yuan ($116.87 billion) from the same period last year. Investment in real estate development rose 35.1 percent to 659.4 billion yuan over the same period, NBS said.
CHINA DAILY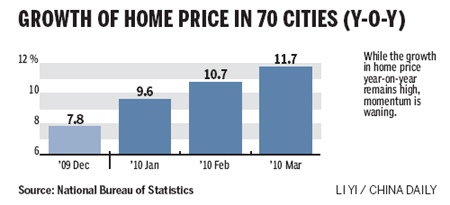 (China Daily 04/15/2010 page13)