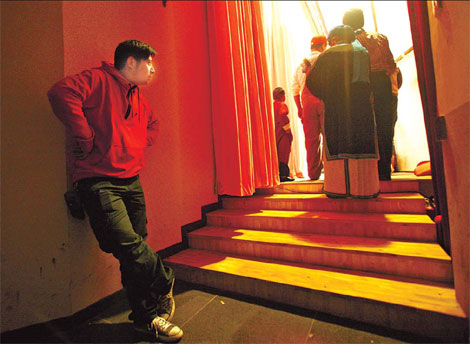 Gao Xiaopan waits for his show at a theater in Chaoyang district. Zou Hong / China Daily photos
Gao and other comedians discuss their performances at rehearsals.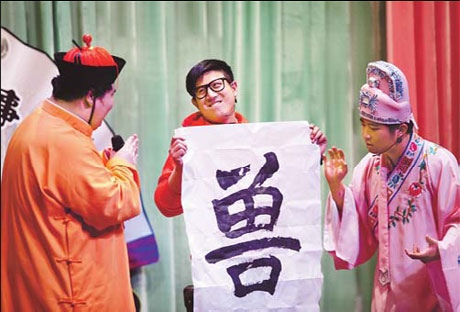 Gao and other comdians during a show.
METRO reporter Qin Zhongwei talks to a young comedian about the old art of crosstalk
When people watch crosstalk performances - a traditional style of Chinese standup comedy - in teahouses, they usually eat sunflower seeds and applaud if the jokes are really funny.
But when the 25-year-old comedian Gao Xiaopan steps up to the microphone, his audience is usually munching popcorn or KFC snacks and they greet his jokes with screams, just like they would a rock star. The reaction is typical for the Gao and his "Hip-Hop Crosstalk Club".
Dubbed the best-looking crosstalk comedian in Beijing, he has put the old art in a new and trendy package, and made it as attractive as pop music to today's youth.
The rising star describes himself as seriously funny and he told METRO that making people laugh is a serious business.
Gao began to learn crosstalk from Feng Baohua, an experienced crosstalk actor, at the tender age of eight in his hometown in Hebei province. He said that right from the start the learning process was nowhere near as casual or easy as people might think. The teaching followed an old but strict master-apprentice style, and there was no short cut, which meant memorizing and practicing day-after-day what the master taught him.
"Following the old Chinese saying - 'To enjoy three minutes of glory in the spotlight, you need 10 years of perspiration offstage' - really works for us who practice crosstalk," he stated.
After completing his initial training Gao traveled to Beijing to continue his study as a crosstalk major at the National Academy of Chinese Theater Arts.
After graduating, he tried different day jobs including a department store attendant and a painter in a crafts shop, while still performing crosstalk in teahouses at night.
In 2008, he took the risk and founded his own crosstalk club and become a full-time comedian with another 10 aspiring comic performers. It was a difficult beginning because they only made 27 yuan each in the first month. But perseverance paid off and now their tickets are sold out a week or more before the show.
At first he looked to books and the material that his master taught for his comedic inspiration, but he said it is more challenging and exciting now that he performs and runs a crosstalk troupe because he and his team always need to think in the shoes of his audience and think up original material.
His audience is mainly those born after 1980, they grew up watching the Japanese cartoon Doraemon and Stephen Chow's Hong Kong movies, Gao said.
"Except for one actor who was born before 1980, most of our actors are post-80s, so we know what they like," he added.
He and his team look for hot topics on the Internet and use real-life experiences for their crosstalk. "We ensure that every week our audience can see a new program, and they won't miss what's hot on the Internet by coming to our show." Further evidence of how seriously they treat their shows the troupe makes a detailed survey during and after each show to calculate how many people come in, as well as people's reactions, like when people laugh, and when they give a big belly laugh.
"We make a detailed chart actually. No other group does this. But we do it and analyze it very carefully, to make sure that our jokes are relevant to our audience," he said.
They also make use of the Internet for publicity and audience feedback, which few crosstalk clubs in Beijing do. Gao's troupe now has a website, BBS, and six QQ groups to reach their audience and receive feedback. Since last December, aside from giving regular performances in a teahouse near the Drum and Bell Towers, the crosstalk club has now rented a second venue near the East Third Ring Road.
"We have big dreams for ourselves and are achieving it step by step. Besides performing crosstalk, we also plan to make dramas, produce our first movie this year, and make a series of own-branded products in the future, such as clothing," he explained."As it grows big, we need to run it as a company to achieve these dreams. And it is not enough if there is only I myself," he said.
When the 25-year-old comedian talked about this, he was certainly very serious.

(China Daily 04/08/2010)