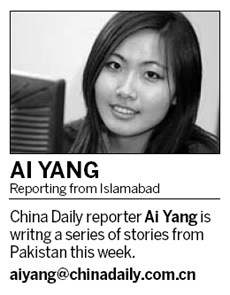 Intelligence officials say Taliban will feel emboldened by Washington's announcement
ISLAMABAD - The United States' strategy in Afghanistan has come in for flak from the intelligence establishment in Pakistan, with officials complaining that Washington's announcement of the date of its pullout from the war-torn nation as being too soon.
If the US did not take more effort to train Afghan security forces, the hasty troops withdrawal plan would be disastrous for Pakistan, they added.
"Washington has made a mistake by announcing the withdrawal date (starting July next year). It is being seen as a sign of weakness and wanting to leave because they feel defeated," a senior official of Pakistan's Inter Services Intelligence (ISI) told China Daily in Islamabad.
"That's why the Taliban (who are fighting the US-led forces in Afghanistan) will not talk to us. Waiting for one more year or two is not a problem for them, because they know Americans will go away. There's no need to talk," he said. "If the US was to pull out of Afghanistan today, that would be when the real war starts for Pakistan."
Millions of Afghans would again pour into the country, creating more problems for the unstable nation, he added.
The official, who asked to remain anonymous, also suggested that Americans "should come out of the 'ruler' mode and realize power is not the solution to all".
US President Barack Obama declared late last year that he would send 30,000 more troops to the war-torn nation.
Nearly 90,000 international troops, over half of which are from the US, are now deployed in Afghanistan. They are backed by 97,200 personnel of the Afghan National Army, and 93,800 local police.
In a recent interview with China Daily, Afghan Foreign Minister Zalmai Rassoul also suggested that foreign troops in his country focus on training local armies in Afghanistan before leaving the country.
"The US strategy keeps on changing and we don't know where it is going," Brigadier Syed Azmat Ali, director of the country's Inter Services Public Relations (ISPR) told China Daily separately. The pullout should be gradual and not before the Afghan security forces are ready to take charge, Ali said.
"The US should play a role in increasing checkpoints along the Afghanistan-Pakistan border too. We cannot afford to have any more troops now," Ali said.
ISPR figures showed that, currently, there were 821 Pakistani checkpoints along the border, but only 112 were set up by the NATO coalition and Afghanistan National Security Forces (ANSF). This was far from sufficient to stop terrorists flowing into Pakistan, Ali said.
Meanwhile, Pakistan has asked China to better help the country's counter-terrorism and reconstruction effort. "China has helped us a lot in terms of economy and training security forces, and in so many other ways. But they can do much more from the level they are doing now and more is required," Ali said.
The primary focus is on more equipment for combating terrorism. "Talks are on a regular basis between the two governments," he said.
A study by Pakistan's Foreign Ministry last year showed a loss of $35 billion in that year alone due to multi-national companies pulling out of the country citing security concerns.
Funds cancellations and other missed opportunities contributed to the financial loss while unofficial figures predict the Islamic Republic will suffer a further loss of $68 billion this year. The US recently committed $1.5 billion in civilian aid to Pakistan annually for the following five years but officials say that figure is far from enough. "We get less than $1 billion out of the total because of monitoring and systemic checks."
Ali said the money would be largely distributed in training, administrative expenses and building infrastructure. "And, after that, hardly anything is left for anything."
"The assistance we get in return is good but insufficient to compensate the losses we suffer just in the economic sector alone," the unnamed official said.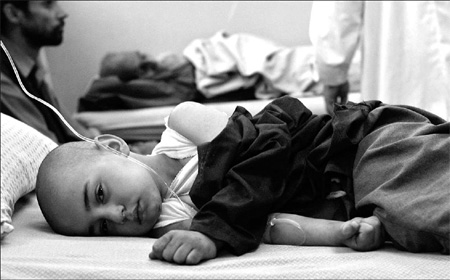 A wounded Afghan boy rests on a hospital bed after a bomb blast in Jalalabad on Wednesday. At least one civilian was killed and 15 were wounded in the explosion, police said. Parwiz / Reuters
(China Daily 04/08/2010 page11)