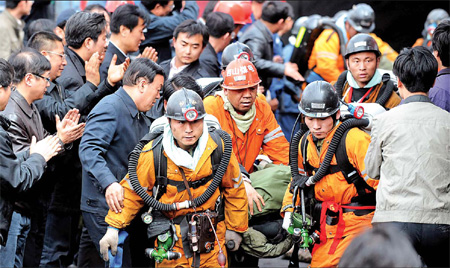 Rescuers carry a survivor out of Wangjialing Coal Mine in Shanxi province on Monday. Rescuers saved 115 workers who were trapped in the flooded mine for more than a week. Thirty-eight workers remain underground. Yan Yan / Xinhua
Workers survive on tree bark, sawdust and turbid water
BEIJING - Monday was China's traditional "Tomb-Sweeping Day", when people mourn their dead.
But it also became a day for national celebration, when rescuers saved 115 workers who were trapped for more than a week in the flooded Wangjialing Coal Mine in Shanxi province.
"It's a miracle," Liu Dezheng, spokesman for rescue headquarters, told reporters on Monday morning after the first nine miners were taken out shortly after midnight.
"We believe more miracles will happen."
At about noon, rescuers carried out the second batch of 106 survivors.
One of the rescued workers raised his hands from beneath his blanket as he was lifted from the pit on a stretcher, footage from State broadcaster CCTV showed.
The survivor clapped his hands and tried to reach for his rescuers in an expression of joy.
The rescued workers were wrapped in blankets at the scene and some of them had their light-sensitive eyes covered as they were rushed to ambulances.
Rescuers also hugged themselves and shed tears of joy.
Both Shanxi Governor Wang Jun and State Administration of Work Safety Director Luo Lin called the rescue "a miracle" in the history of China's coal mine rescues.
"The trapped miners displayed an unwavering determination down the mine shaft to live through eight days and eight nights," Luo said.
"Scientific methods and technology used in the rescue also ensured that the miners were saved," said Shanxi Party chief Zhang Baoshun.
President Hu Jintao and Premier Wen Jiabao both extended their regards to the survivors and praised all rescuers for racing against time to save those trapped in the past week.
At about 1:40 pm on March 28, underground water gushed into the Wangjialing coal mine, which was under construction, where 261 people were working. Of these, 108 were the first to be lifted safely to the surface.
Rescuers have been pumping water out of the mine in the past week.
By Monday night, 38 of the workers were still trapped in the mine and more than 2,000 rescuers were trying to reach them, Xinhua News Agency reported.
Many initially thought the first batch of workers who were rescued had few chances of survival because they were located in a submerged area, CCTV reported.
But the workers managed to survive. They were weak but lucid and able to speak despite the ordeal, identifying themselves to doctors, the China News Service reported.
"After a long time in the water, many of the survivors have partially ulcerated skin," a doctor was quoted as saying.
The workers survived underground by subsisting on sawdust, tree bark and turbid water, rescuer Chen Yongsheng told reporters.
One survivor said the flood torrents in the mine swept him to a spot where he had to hang from tunnel walls by his belt to avoid drowning.
After being in the water for three days, he climbed into two passing mine carts with eight other men and floated to a section of the tunnel where it was dry.
A rescue team on an inflatable boat headed for the workers after they were spotted at about 10 pm on Sunday, a rescuer surnamed Wang told CCTV. "The water level in the section was still high and left little room for us to edge closer to them," he said.
The team threw lifelines to the trapped men after realizing that the boat could not move any further, Wang said.
Once the survivors found themselves in the boat, Wang said he was asked whether he would take them out of the pit.
"I promised them that they would be lifted out as long as I could get out," Wang said.
After being carried into an ambulance before dawn on Monday, one of the survivors told doctors he wanted to call his family.
"I have two daughters and a son. I have to work in the mine to earn money for them," said another 45-year-old survivor who was taken to the Shanxi Aluminium Plant Hospital, which admitted 35 survivors from the mine. The hospital is among five local ones treating the workers.
"It's great to be up on the surface again," said one 27-year-old survivor.
Xinhua, AP and Reuters contributed to the story
CHINA DAILY
(China Daily 04/06/2010 page1)