Zhang Xinyu, 23, is China's No 1 online football baby. Zhang, who first came to Beijing to work as a model in 2008, has gradually developed her career in the city and expanded into singing and acting.
She is also the spokeswoman for an ongoing national contest of football babes for the upcoming World Cup. The outspoken Zhang shares with METRO her understanding of football and the role of a football baby.
METRO: How do you feel about football?
Zhang: I don't love football and I don't really know much about football. But it is very exciting. I still remember some matches I watched during the 2002 World Cup when I was a middle school student back in my hometown, Kunshan, Jiangsu province. I cried and felt like my heart was breaking when I saw Chinese men playing on the field.
METRO: What about football babies? What makes a football baby?
Zhang: A football baby is the face of football and represents football. I think confidence and the ability to bring people together are all very important. As a football baby, I have to play wild sometimes to show the passion of a football game but sometimes I also have the responsibility to get the fans together.
METRO: How did you become a model?
Zhang: A friend, who worked in Beijing as a model, asked me to come to Beijing to work with her. One day, when I was considering her invitation, I suddenly felt I didn't want to be at the company where I was working anymore, so I grabbed a bag and took the train to Beijing. It was late 2008. My friend picked me up in the station and she introduced me to some photographers. And I started modeling for magazines.
METRO: What was your first assignment?
Zhang: It was For Him Magazine and I don't know why the editor wanted to use me, a newbie in the business. It took a whole day to take the photos and I wore a one-piece dress, which was not sexy but pure. The process was simple and happy for me.
However, I am always dissatisfied with my first work - my first picture, first drama and first EP - I daren't even watch my first drama because I think it is awful. But I can forgive myself and take my dissatisfaction as motivation.
METRO: You published an EP and acted in some dramas last year. How do you see yourself? How do you balance the roles of model, singer and actor?
Zhang: I do all kinds of work. However, I think becoming an actor is my dream and will be my main work in the future. I've watched many films to try to learn by myself and I dream of becoming an excellent actress like Zhang Ziyi and Zhou Xun one day.
Also, music is still part of my work because I feel very good publishing my own songs. The ring tones on my parents' and friends' mobile phone are my songs. Isn't it special?
METRO: What is your ideal life like?
Zhang: My current life is my ideal life. I was like a bubble before and did not have much content inside, but now I learn many things and I can feel I am growing every day. Although I am tired and have to work till midnight sometimes and get up early, I still can get over the hardship by complaining to my manager.
METRO: What do you think about the hidden rules in the entertainment business?
Zhang: I only want to say that every woman should know how to protect herself, whatever business we work in. It is more important for a woman to love and respect herself.
China Daily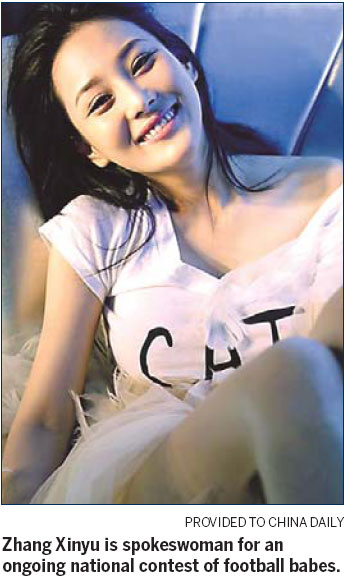 (China Daily 04/02/2010 page38)