A man stabbed to death his estranged wife and injured two of her female roommates, one critically, before committing suicide Wednesday night in Chaoyang district, police said.
Gao Yan, 43, killed his wife, Zhao Suxia, 42, a senior officer for a Beijing company, according to Li Baohua, a press officer for the Chaoyang district police bureau.
The couple were from Jiangsu province.
Gao, who had no regular job in Beijing, was known for being ill-tempered and often quarreled with Zhao about small things, so they separated, Zhao's colleagues told police.
Zhao resided in a two-bedroom rental in a dormitory building in the Anhuili area of Chaoyang district. She shared a flat with five colleagues, four of whom were home at the time of the attack.
In the two-bedroom unit, Zhao and a colleague surnamed Sun shared one room, two others, surnamed Ying and Li, shared the guest room and another colleague, surnamed Yang, lived in the other bedroom.
The roommate Li was away at the time of the incident.
On Wednesday morning, Gao entered the building by claiming he was a doctor visiting for medical examinations, so watch personnel let him go upstairs, Li said.
Gao went straight to his wife's room, which had been left unlocked. Gao stabbed Ying, who suffered injuries to her waist.
In panic, Yang rushed into the washroom and locked its door.
Gao then entered Zhao's room and stabbed his wife 10 times before turning to Sun, whom he stabbed three times in the chest. Zhao died at the scene.
Sun, in her bloodied pajamas, escaped and went downstairs to the duty officer crying for help, police said.
A watchkeeper immediately reported the incident to the police, who arrived five minutes later.
Gao then stabbed himself to death.
Sun and Ying were transported to a nearby hospital for treatment. Sun's injuries were considered life-threatening.
Ying was diagnosed with a ruptured muscle.
Officials of the women's company said they were cooperating with the police investigation, and had visited the injured roommates at the hospital.
They refused to comment about the stabbings, Beijing Times reported on Thursday.
Another of Zhao's colleagues, surnamed Lu, said Zhao had been working for the company for two years.
Zhao was called a hard-working and easy-going employee.
"It's not easy for a girl to be promoted to senior officer in just two years," Lu said.
Lu added that Gao had no fixed work, was grumpy and frequently beat Zhao.
In the wake of the attacks, officials with the apartment complex said they would ramp up security.
China Daily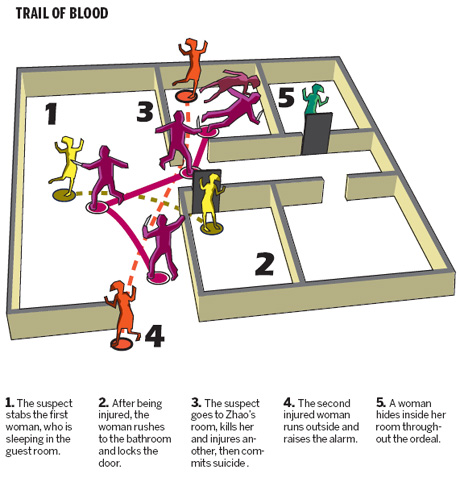 (China Daily 04/02/2010 page25)