Expo 1967 in Montreal launched an Expo souvenir phenomenon that continues to this day. No doubt, 43 years later, there are millions of them scattered around the world, in closets, in attics and in basements - the treasured Expo passport. The passport became so identified with Expo that it has appeared in promotional materials.
The souvenir has changed little in that time. Originally tied to a one-day, three-day, seven-day or season-pass ticket, the passports are now sold independent of entry tickets. That's probably a good thing since some recent Expos have had so many countries participate that you might need two or three of the tiny books to fit all of the rubber stamp images.
Sometimes the rubber stamps are at the entrance of a pavilion or sometimes at the exit. At some Expos, mostly children collect the images; at others, everyone joins in. At Zaragoza, Spain's Expo 2008, Croatia's stamp went missing, forcing pavilion staff to hand draw the design - definitely a unique souvenir.
Initially, stamp designs were basic, similar to those in a real passport. They would contain the name of the pavilion in a circle or rectangle. However, over the years, the designs have become more complex, sometimes larger and some multicolored. Many stamps now include the nation's "brand". Sometimes pavilion hosts will personalize them with the passport holder's name in that country's language.
At Vancouver's Expo 1986 and Expo 1988 in Brisbane, the Japanese pavilion featured a passport-stamping robot.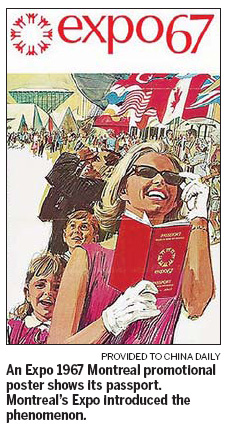 National pavilions aren't the only ones to issue stamps. Corporate and theme pavilions often do as well. There are also stamps for special days, such as national days and opening and closing days. When members of the British royal family visited Expo 1967 in Montreal, the UK pavilion offered a special stamp using ink with gold in it, but only one per passport.
Expo 2010 continues the passport tradition and it is sure to become Shanghai's newest sport: becoming the first person to have a passport stamped at every pavilion.
At Expo 2010, the passports will feature pictures of various pavilions along with plenty of space for stamps. You'll have your choice of different passport designs: a standard design (in different colors) that's much like a real passport; a version with the Expo mascot Haibao; and a "classical" design.
With nearly 200 countries participating, you might just need one of each in order to get every pavilion's stamp.
Pavilion hosts should brace themselves. Passport stamp collecting can become somewhat frenzied. The local phrase for "Where's your stamp?" may become the first Chinese-language words foreign visitors learn.
For many visitors, it can be serious business. First-time visitors to Expo should remember to buy a passport before visiting their first pavilion. Otherwise, you'll have to go retrace your steps in order to complete your set.
The author is an American who has attended seven Expos. He is the founder of ExpoMuseum.com and co-host of The World's Fair Podcast.
(China Daily 03/29/2010 page7)