Does putting a qipao-clad woman on the cover create instant brand recognition for readers interested in China? Is it an image persuasive enough to push sales? The qipao lure seems to work for factory-worker-turned-author Zhang Lijia (Socialism is Great, 2008), or so she would have us believe.
Now working on her second novel, The Lotus, Zhang makes no bones about falling in line with what the market wants.
"If I write for the domestic market I will clothe my heroine in a low-cut Gucci dress or nothing at all, but if I am writing for the Western audience I will make her wear a qipao," says Zhang.
While her first book is a memoir of her growing-up years, slogging away at a missile factory on the banks of the Yangtze, her second has a hooker as the central character. "Western audiences will probably find an attractive prostitute more interesting than a yellow-toothed factory worker," Zhang says.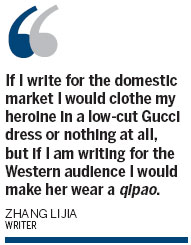 The issue of writers and publishers resorting to stereotyping in their bid to sell the Asian/Chinese stories in the global (read Western) market came up several times during the Bookworm International Literary Festival 2010, which concluded last week. Candid opinions were expressed, publishing backstage intrigues revealed, political correctness thrown to the winds and, predictably, no consensus was reached at the end of the day.
While Zhang seemed to argue that stereotyping was a necessary evil, American-Chinese author and academic Alex Kuo quoted French philosopher and revolutionary-writer Frantz Fannon: "Sometimes writers become brothel managers."
"We create and perpetuate stereotypes and their sub-categories. We are as guilty as the market out there," Kuo said, demolishing fellow Chinese-American author Amy Tan, as one who is "forever floating along the shore ... never addressing the land".
Writers shared bizarre tales vis-a-vis packaging their work in a market-driven publishing world. Chinese-Malaysian novelist Tash Aw (The Harmony Silk Factory, 2005) recalled a sustained difference of opinion with his American publisher, trying to convince them not to put "some Oriental chic" on the cover.
Alice Pung, an Australian writer of Chinese-Cambodian descent, said she was often told an Asian woman author's book was better off packaged "as a memoir, even if it was one of short stories".
And then there was the tricky issue of reaching the idea of Asia, or indeed any of its nations, and making an honest job of it. While Zhang Lijia faulted a fellow novelist for inaccurate ethnological detailing in his sleuth story set in a 1960s Chinese metropolis ("no Chinese woman of my mother's generation would emerge out of the bath draped in a towel"), Tash Aw said he did not care so much for historical-factual precision in fiction.
But the widespread propagation of a negative image of the Chinese worries him. "China seems to have become the repository of all that's the other.
"Western stereotyping of China sets the non-Chinese reader in direct opposition to something that's not himself," he added. "It makes it easy for the reader to not explore his own realities, inequalities, sexism, poverty, homophobia ..."
Much of Indian writing in English has followed the same lines - teasing and titillating a reader's ill-informed notions about exotic India.
Writer Amit Chaudhuri tried re-directing the audience's attention to the, "India that is fragmentary, everyday, the one that is concerned with locality, neighborhood, aligned with everyday affinities", as opposed to the Post-Rushdie school of writers talking about a many-voiced, many-hued fantasy land that's India.
More disconcerting perhaps is the multinational publishers' reluctance to market an Asian writer's work in his own country, or, for that matter, any other Asian country.
"The presumption is that Asians don't read and nor do they buy," says Tash Aw, hoping that the scenario will change in the coming years, given that all the major Western publishers have set up shop in Asia and much English-language publishing will now be done out of Asia.
But will the qipao and the peasant's straw hat continue to shine from the laminated covers when it happens?
"I think there is really no set formula in introducing Chinese literature to the international audience, simply because the readership is so diversified," says Huang Youyi, vice-president, China International Publishing Group.
"My experience in selling rights to publishers outside China is that often they buy Chinese book rights according to their local interest and the local interest varies from continent to continent."
China Daily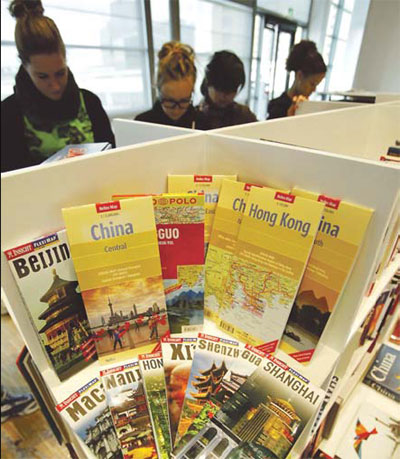 More Chinese publications are targeting the global market, like these shown at the International Book Fair in Frankfurt in 2009. MARTIN OESER / AFP
(China Daily 03/26/2010 page19)