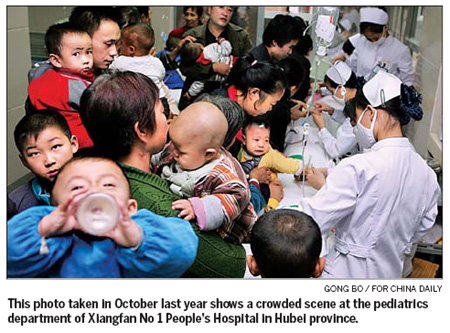 As an historic healthcare bill is finally approved in the US, Wang Shanshan in Beijing looks at the pressure on doctors working in China's reforming medical system.
As Barack Obama signed into law historic reforms of the United States healthcare system on Tuesday, the US president not only ended decades of political wrangling but, according to supporters, also years of anxious waiting by doctors. Although the reforms will make medics busier, campaigners said they ultimately boost the wages of those who treat the poorest people.
Doctors in China can only look on in envy.
Healthcare reforms in China have been ongoing for more than two decades, but they have done little to stem the flow of complaints from patients upset about spiraling costs and poor service, and from doctors who feel victimized by the system.
Chinese physicians - referred to as "white wolves" by some due to their trademark white coats and reputation for profiting from prescriptions - are not a happy bunch. One in four suffers moderate to severe depression due to the stress of the job, according to a nationwide study by Peking University commissioned by the Ministry of Health.
Stark headlines and media reports on alleged cases of malpractice in recent months, including the death of a baby while a doctor played computer games, have further dented their image.
Although the last batch of healthcare reforms announced on Feb 23 are aimed at lifting the gloom by getting public hospitals to rely less on drugs costs and more on service charges and government subsidies, analysts say they still will not cure many of the problems facing doctors.
So what is wrong with the medical profession?
According to health professionals, lawyers and academics, the key problems are an evaluation system that is based on a doctor's ability to generate revenue for a hospital, a certification requirement that effectively prevents doctors from changing jobs and conflicting procedures for medical disputes that "encourage cover-ups".
Of the more than 8,000 Chinese physicians polled - about 3,000 in cities and 5,000 in the countryside - as part of the Peking University study, most were 44 or younger, married and well educated.
"However, our research showed that the majority of doctors have a much higher degree of anxiety and depression than most citizens," said Qiu Zeqi, a sociology professor who led the research published in October 2009. "They also have a very poor work attitude."
The pressure on doctors comes partly from the way their performance is evaluated, said Zheng Shanhai, a doctor at China Meitan General Hospital in Beijing. "Money has become the major measurement," he said. "Each section of a hospital has a different revenue target, and a doctor's performance is evaluated monthly according to how much he helps to meet that target."
Medics generate revenue through checkups and prescriptions they make out, which patients use to purchase drugs at the hospital's pharmacy.
Doctors also charge a minimal service fee. In Beijing, patients pay about 5 yuan ($0.70) for an appointment - 4 yuan goes to the local government, 0.5 yuan to the hospital and 0.5 yuan to the doctor, said Chen Yan, a doctor specializing in respiratory medicine with Beijing's China-Japan Friendship Hospital.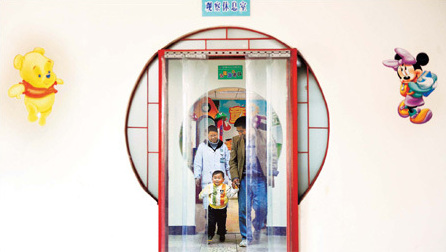 A boy leaves a community clinic with his father after receiving a routine checkup in Yueyang, Hunan province. As a part of the healthcare reform, people are encouraged to use small clinics more. Zhao Zhongzhi/Xinhua
If a doctor fails to meet his or her section's revenue target, it is reflected in their salaries and can affect their career in the long term, added Zheng.
The evaluation system has two direct results, say analysts: doctors tend to automatically make out prescriptions for expensive medicines and, in most cases, lose any incentive to improve their skill levels.
"After some checkups and tests, doctors don't even look at the results. They are carried out purely for the money," said Zheng, who explained that most prescribed drugs could be replaced by cheaper alternatives that are just as effective.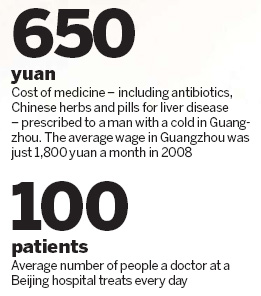 A man suffering from a sore throat spent almost 650 yuan on a checkup and medicine at a hospital in Guangzhou, capital of Guangdong province, last November, Guangzhou Daily reported. He was prescribed a dozen different drugs - antibiotics, Chinese herbs and pills for liver disease - and was given several injections. He was actually diagnosed with a cold.
The charge is all the more shocking considering that the average wage in Guangzhou was just 1,800 yuan a month in 2008, according to the National Bureau of Statistics.
To cut medical costs, the Ministry of Health issued an "essential drugs list" last September. It contains the most common 307 Western and traditional Chinese medicines, which are all heavily subsidized so hospitals can sell them at cost price. The ministry said 30 percent of all State-run clinics in rural areas would be stocked with each essential medicine on the list by the end of last year.
As long as money is the main driving force behind healthcare, however, "bedside manner" will always take a back seat.
"The medical profession has unlimited heights and a doctor always has new challenges to meet. They must be creative and hard-working," said Chao Enxiang, a doctor of Chinese traditional medicine at the China-Japan Friendship Hospital with three decades of experience. "Sadly, the space for creativity is very much limited and many doctors are abusing their profession to make money."
High profile cases of malpractice reported late last year, which were either blamed on a doctor's poor skills or lack of procedural care, have done little to instill confidence in China's hospitals.
Two patients were hurt in botched operations on two consecutive days in hospitals in Hubei province last November. The first case involved an 84-year-old man, who fell at his home in Tongcheng county and broke his left leg. His son complained after noticing surgeons had operated on the elderly patient's right leg by mistake, Chutian Metropolitan News reported. The next day, medics cut tissue from the wrong side of a farmer's stomach in the nearby city of Xiantao, according to Hubei Daily.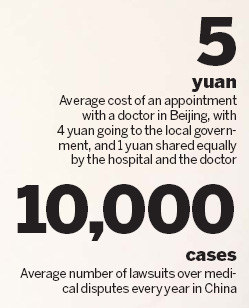 More shocking, perhaps, was an incident at the Nanjing Children's Hospital, in the capital of Jiangsu province, where a baby died last November because his doctor, ophthalmologist Mao Xiaojun, was playing go online instead of looking after his patients.
The 5-month-old boy died when an eye infection caused swelling in his brain. His mother knelt down to beg the doctor to help her child three times, Yangtze Evening News reported.
Tense relations
Expensive treatments and irresponsible doctors are causing an increasing number of medical disputes and lawsuits against hospitals and healthcare professionals, say experts.
More than 10,000 court cases over medical disputes are filed every year in China, said Deng Liqun, director of legal affairs for the Chinese Medical Doctors' Association.
The trend is not good news for doctor-patient relations. The study by Peking University showed that less than two-thirds of the physicians polled believe their patients respect them. "The pressure doctors feel from this tense relationship is so great that it is hard to imagine," added Dr Chen in Beijing.
The existing evaluation system, which increases a doctor's incentive to sell expensive medicine and reduces their willingness to take care of patients, began in the early 1990s when hospitals became part of the market economy, said Dr Zheng. "The emphasis on revenue has grown stronger than ever in the last several years," he said.
Hospitals were fully funded by the government until the early 1990s, when medical reforms started. They then had to earn the majority of the money that they need, while still getting some subsidies from the government.
In 2005 the government admitted that the medical reform was a failure. Ge Yanfeng, an official at the Development Research Center of the State Council, told the press at the time: "Until now China's medical reform has been largely unsuccessful."
He quoted a report of his institution to state leaders. It said: "There are big problems with the current reform. The passive effects are that the fairness of the medical service is reduced and that the efficiency of the state input is low. It is absolutely wrong that the healthcare system is on the way to become a business and a market."
Medical reforms came to a halt in 2005 and discussions have been ongoing since then about how to launch a new reform. However, little has been said about solving the problems created by previous reforms.
"The healthcare system, which is halfway to being market-driven, urgently needs changes," said Hu Xingdou, an economics professor at Beijing Institute of Technology. "Public hospitals are on one hand monopolies, but they are also under pressure to earn their own money. So they must exploit their status to generate revenue.
"Public hospitals are managed like State-owned enterprises and doctors are often treated like ordinary workers, not professionals. Private hospitals, which are new in China, are limited in many ways and still struggle to attract doctors from public hospitals."
Private medical centers first appeared in China in 1995 and, by 2006, there were about 4,000 nationwide, according to the China Healthcare Development Report, which was published by the Social Sciences Academic Press. Meanwhile, there were 16,000 public hospitals in 2007, according to figures from the National Bureau of Statistics.
Doctors tied down
Doctors at public hospitals even find it difficult to move within the public sector, let alone take jobs at private clinics, due to "handcuff" contracts, say analysts.
"For many doctors, if you work at a hospital you are there for life," said Chen at the China-Japan Friendship Hospital, a public facility. "Almost all the doctors I know who changed jobs either went abroad or left the profession altogether."
Zheng at the public China Meitan General Hospital agreed and explained: "Doctors are bound by hospitals. We have certificates for practicing medicine, but the certificates have to be registered at a certain hospital. The registration procedures are complicated and it can be very troublesome if we want to change jobs."
The Law on Medical Practitioners introduced in 1998 stipulates that certified doctors can only practice medicine at the hospital where they are registered. However, the Temporary Regulation on the Registration of Medical Practitioners, which came into force just 12 months later, bars physicians from being registered at more than one hospital.
The procedures to register are so complicated that many medics are actually forced to practice "illegally" for up to five years, said Ding Jiaming, a Chinese doctor who works in France. Ding practiced medicine in Beijing for more than 20 years before moving abroad.
As China does not have a medical "talent market", doctors are often neither valued nor treated as professionals by their hospital bosses, said economist Hu. "Public hospitals have lots of administrators, so many that they usually account for more than one-third of a hospital's staff. These administrators have far more access to resources than doctors and, because they are often unfairly distributed, this has led to most doctors developing a passive mood," he said.
Many doctors are poorly paid. Qu Ruimin, a doctor for 17 years at the popular, 100-year-old Beijing Xuanwu Traditional Chinese Medicine Hospital, said she is paid less than 3,000 yuan a month.
A doctor's workload is also extremely heavy. Dr Chen said he receives more than 100 patients every day.
However, rather than giving doctors incentives to perform and improve their skills, healthcare administrators focus on regulating their behavior. There are almost 150 rules and laws that govern the doctor-patient relationship, said Qiu at Peking University.
One regulation in particular, called Some Provisions of the Supreme People's Court on Evidence in Civil Procedures, is seen as the Sword of Damocles hanging over doctors' heads. It stipulates that medics must prove their innocence in court cases relating to medical disputes.
Many experts argue, however, that the rule directly conflicts with the Provisions on Medical Accidents, which was introduced in 2002 and makes local medical associations responsible for deciding if a doctor is at fault in the event of an accident. Effectively this means a defendant is judged by his or her peers, and analysts fear those doctors with guanxi - influential connections - are more likely to escape punishment for malpractice.
"There is a conflict," said Wu Dong, an attorney with the Shanghai M&A Law Firm who specializes in cases of medical disputes. "There is often no justice when medical associations make their decisions. Members of medical associations are all professionals and they all cover up mistakes."
Zheng explained doctors protect each other because they are afraid that one day, they might be on the stand themselves.
"Doctors would be more prepared to stand up and speak out in the interest of patients if the majority didn't feel besieged, like they do now," he said.

(China Daily 03/25/2010 page1)