I was not surprised when I heard that an Italian caretaker switched off the lights at Rome's historic Pantheon one Sunday to force the Bach Consort Group to leave the stage.
After all, the Pantheon closes at 6 pm on a Sunday and the concert wasn't due to finish until 15 minutes after closing.
Italian people can be very obstinate when their private time is at stake.
In the summer of 2006, I was an exchange student in Perugia, a small, but pretty city in Italy.
One day I went window-shopping on the main street trying to find something nice to take home for my friends, a lovely dress caught my eye and I decided to try it on.
I started to enter the shop, but was stopped by a shop assistant who told me to come back tomorrow. She said she was already off work and was closing the store. I told her I was a serious buyer but she still insisted that she needed to close the store.
I thought she must have something really important to do, but I caught sight of her later that evening drinking espresso and talking with friends.
I realized that for her money is far from everything. She would rather enjoy her coffee and leisure time than do business with me.
In Beijing, the situation is the opposite. A shop assistant will do anything possible to make a sale and keep her customers. She will never turn away a potential customer even it is late in the evening.
In Beijing, sales staff are always ready to be of service. If you are an important client, they may even give you a name card with their personal telephone numbers on it.
Sometimes they will keep in touch by sending messages with the updates of new arrivals that might be of interest.
In Perugia they don't rush like we do in Beijing.
Their lunchtime is traditionally a two- or three-course meal, and most businesses will close for two hours during the day. When stores shut down, banks close and the streets are empty.
It's different in Beijing, where we normally take a quick power lunch or work through lunch.
In the morning no matter what time it is, you will always see people rushing to the subway holding their breakfasts, cellphones glued to their ears.
The buses are always crowed and cabbies drive as fast as they can, as if they are competing in Formula One.
We need to slow down a bit. People in Perugia always say "piano piano" which means "slowly slowly" when they feel themselves stressed.
We need to adopt a bit of the Italian mindset. It would improve our health and our happiness.
With the hectic lives most of us have, it can seem that there is not a lot we can do.
But we can work on the small things, such as enjoying time with family and friends, appreciating the pleasures of everyday life and doing as the Italians do - make a conscious effort to slow down a bit and savor every moment in the day.
China Daily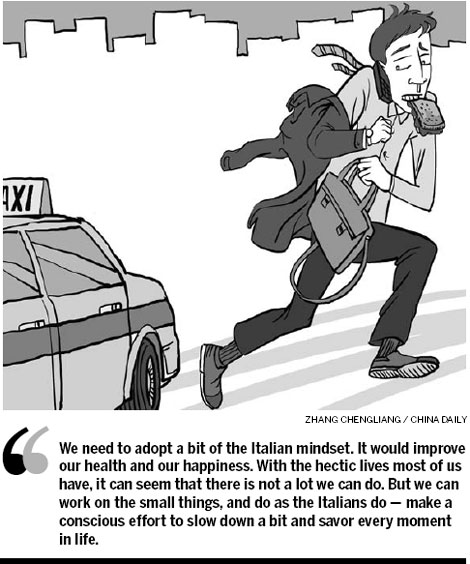 (China Daily 03/24/2010 page29)