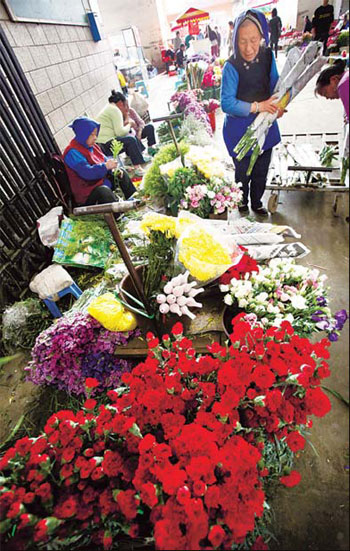 Chenggong is the biggest supplier of flowers in China. But the drought has made water scarce for growing flowers here, leading to a shortfall of over 30 percent. Huang Xuefei / for China Daily
KUNMING - Not all is well in Chenggong, a county 20 minutes drive from Kunming, the capital of Yunnan province and the center of Asia's biggest flower trading market.
The impact of the once-in-a-century drought that has ravaged the region in the last six months has queered the pitch for flower dealers here.
"Sales volume has dropped by 30 to 40 percent from a year ago," said Zhang Li, vice-president of Chenggong's Dounan International Flower Auction Center.
At the same time a shortage of supplies has sent prices north in the region that supplies nearly 70 percent of the fresh flowers in China.
Roses, which account for 60 percent of the trading volume at the market, now cost 0.95 yuan (14 US cents) per unit, compared with 0.75 yuan a few months back.
"Flower growers are finding it extremely difficult to water plants due to the drought," said Xia Yuexiu, sales manager of Jin Yuan Flower Industry Company. He said prices will stay high until the drought subsides.
Yang Yong, a 45-year-old gypsophilas grower, has been in the floriculture business for 11 years. So long so that he says this has been the worst crisis in his life so far.
Gypsophilas, commonly known as "Baby's Breath", require sizable quantities of water to grow and the reservoir he used has now almost dried up due to the drought.
Chenggong is the biggest supplier of flowers in China and nearly 70 percent of the farmers here survive on floriculture. The drought in the region has already made drinking water a scarce commodity and there is little for growing flowers.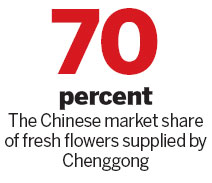 The region is not only a major domestic supplier but also a major exporter. Over 10 percent of the flowers are exported to countries like Japan, Singapore and Thailand on a daily basis.
Summing up the plight of the industry, a sales manager from Jin Yuan Flower Industry, said his company is struggling to maintain its daily export commitments.
The drought has led to a shortfall in flower supplies by over 30 percent, or roughly 300 tons, in sales volume. The rising prices have acted as a cushion and we expect our revenue to grow nearly 70 percent this year, the sales manager said.
But, the real problem lies in how the companies can make up for the shortfall in supplies notwithstanding the rising prices. Most of the contracts were agreed last year and it is difficult to walk away from them now, he said.
According to Yunnan Flower Association, the drought has affected more than 80 percent of the output, causing a 50 percent reduction in annual supplies. This could translate into a shortfall of over 854 million yuan in value terms.
China's flower industry is largely dependent on Yunnan. So a price increase of 10 percent in Kunming, will translate into a 30 percent increase in other flower markets, said local dealers.
According to Yunnan Flower Information Center, 80 percent of the region's flowers are sold domestically, with half of the purchases in China originating from the southwestern province alone.
Yunnan is a major provider of carnations and roses and their average price has risen 30 percent in Beijing.
The drought has also affected other industries like tobacco, sugarcane, rubber and forestry products.
Yunnan Greenland Biological Technology Company, a Shenzhen-listed planting firm, said recently that it expects full-year earnings to fall by 30 percent compared with an earlier forecast of 20 percent to 50 percent growth.
It said the drought has severely affected its seedling base in Pu'er.
According to estimates the the current drought has affected nearly 6.5 million hectares of farmland in the country. More than 20 million people and 12 million herds of livestock are facing acute water shortage.
China Daily
(China Daily 03/24/2010 page15)