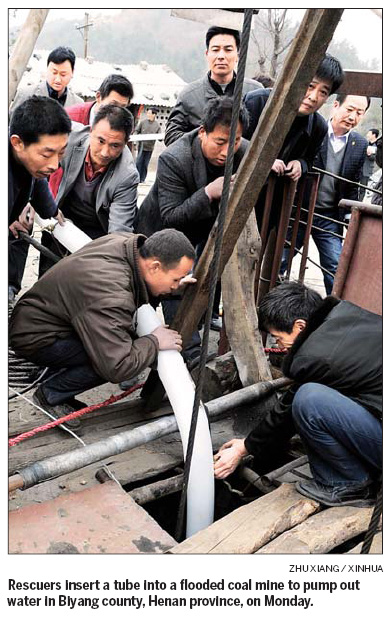 BIYANG, Henan - Rescuers have been racing against time to locate 11 miners who have been trapped in a flooded mine in Central China's Henan province since early Monday morning.
The accident happened at about midnight when a mine controlled by the Shunda Mining Co Ltd in Biyang county of Zhumadian city was flooded, an official of Zhumadian city government said.
Rescue work began immediately and an investigation into the cause of the accident is underway.
The county's deputy chief, Wang Xinke, who was in charge of work safety, was removed from his post on Monday evening, according to an official of Zhumadian government.
When the accident happened, 12 miners were working underground. The flooding started in the No 5 mineshaft and soon spread to shafts No 6 and No 8. While one of the 12 miners managed to escape, 11 others remained trapped.
By Monday evening, rescuers still failed to make contact with the trapped miners, as six pumps were kept running to remove water from the shafts.
Tao Shanhe, director of the county's work safety bureau, said the bureau is asking for larger pumps from Pingdingshan city to increase the pace of the rescue effort.
He said the local work safety authorities had ordered the mine to stop operating last Friday, though he did not disclose why the mine was told to stop production.
With the passage of time, relatives of the trapped miners became increasingly anxious, as they started to lose hope.
"We're so worried. We have no idea where my father is or whether he's still alive," said Peng Xu, son of 42-year-old Peng Wenxi, one of the trapped miners.
Zhang Qinghua, the wife of a miner named Hao Qingbao, said she walked a considerable distance to get to the mine after she heard of the accident.
"I tried to call the mine after I heard about the accident, but could not get through. So I walked several kilometers of mountainous road to the mine," Zhang said.
"I just cannot understand why nobody informed us after the accident occurred," she said angrily.
(China Daily 03/23/2010 page6)