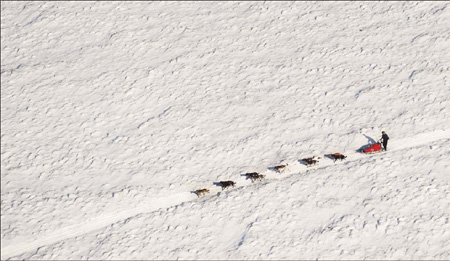 Lance Mackey's team heads out onto the ice of Golovin Bay on Monday during the 2010 Iditarod Sled Dog Race. Bob Hallinen / Anchorage Daily News via Associated Press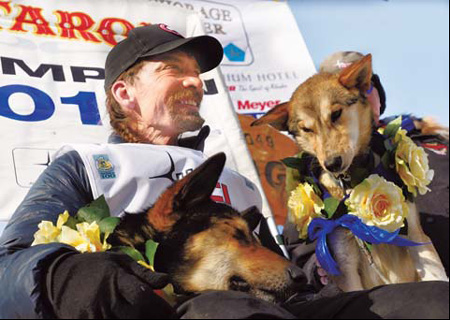 Mackey holds two of his dogs, Rev and Maple, who wear rose garlands, after he won his fourth consecutive Iditarod.
Iditarod champ sets personal marks despite marijuana controversy
NOME, Alaska - Lance Mackey won the 1,100-mile (1,700-km) Iditarod Trail Sled Dog Race on Tuesday to become the first musher in the event's 38-year history to win four consecutive races.
Fans bundled up against subzero temperatures (-23 C) cheered the 39-year-old throat cancer survivor as his team coasted up the main street of this old Gold Rush town. For winning, Mackey gets a new Dodge truck and $50,400. He finished the race in eight days, 23 hours and 59 minutes - the second-fastest finish in race history.
"These are my heroes right here," Mackey said seconds after crossing the finish line as he was giving his dogs a pat on their heads and a kiss. He then planted a kiss on his new truck.
For Mackey, this year's championship also provided some personal vindication. A throat-cancer survivor who has a prescription for medical marijuana, Mackey believes he was the target of a new Iditarod rule requiring mushers to submit to drug testing.
Mackey admits he regularly smoked marijuana on the Iditarod trail in past years, a practice he said helped with pain management and appetite enhancement. His cancer treatments left him without saliva glands or taste buds.
He declared he would not use marijuana during this race, even though he had a prescription to do so.
The son and brother of past Iditarod champions, Mackey has a reputation for toughness. When his left index finger became compromised by nerve damage sustained during cancer treatment, he chopped it off himself. In 2007, he became the first person to win the 1,000-mile Yukon Quest International sled dog race and the Iditarod back to back, a feat he repeated in 2008.
He is also known as a canny racer, who sometimes skips or shortens rest stops at race checkpoints to keep his rivals off guard, or sneaks out when other mushers are sleeping or otherwise occupied.
Much of the race again this year was a duel between Mackey and another mushing royal, four-time champion Jeff King. King has said this will be his last Iditarod.
King had been leading much of the race but was overtaken by Mackey on Saturday in the village of Kaltag, about 350 miles (560 km) from the finish. King chose to rest his team and Mackey, renowned for his ability to run his dogs long distances with little rest, opted to keep going.
Mackey said his relationship with his team was more rewarding than winning another truck.
"They might not be the fastest team in this race but I think they have the biggest hearts," he said.
This year's Iditarod was marked by bitter cold that plunged to 30 below (minus 34 C), further chilled by powerful winds in sections of the trail. Mackey, whose cancer treatments left him with circulation problems, complained the cold was affecting his hands and feet.
Reuters contributed to this story..
Associated Press
(China Daily 03/18/2010 page10)