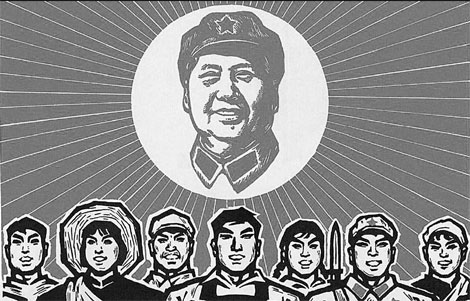 A poster published in the book.
French scholar Claude Hudelot has written on China's leadership for decades, and his new book offers a visual perspective on late Chairman Mao Zedong. Yang Guang reports
French historian and former diplomat Claude Hudelot feels a red-hot passion for understanding China's past leadership.
The centerpiece of his fascination has remained former Chairman Mao Zedong (1893-1976).
He has written several books on the late leader, such as The Long March (1971) and Mao: The Life and the Legend (2001). In addition, he has produced several film documentaries like Hou Bo and Xu Xiaobing, Photographers of Mao (2003).
The 68-year-old's newest book, The Mao Cult, focuses on visual elements related to China's foremost founding father. It features calligraphy, photographs, paintings, badges, and statues and busts of Mao. It also reveals the stories behind these images.
Hudelot created the book with French photographer Guy Gallice.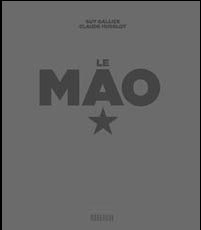 Claude Hudelot's newest book, The Mao Cult, features visual elements of former Chairman Mao Zedong. Provided to China Daily
The more than 800 images were selected from more than 2,000 belonging to his and Gallice's personal collections, and from private museums in Shandong province's Qufu, Fujian province's Shantou, Jiangxi province's Jingdezhen and Hong Kong.
Hudelot's visual approach to depicting Mao differs from that of most historians, who focus on texts and documents. In addition to poring over books, he has also viewed many photos and films depicting Mao.
"I believe that not only for Mao but also for other leaders who have changed history, you have to look carefully at the images, read the poems and see the calligraphy," Hudelot says.
He explains that he strongly dislikes the bestseller Mao: The Unknown Story by Jon Halliday and Jun Chang.
"It is a book of revenge. It's too critical," he says.
"I believe when you read reports like the one on the Lushan Conference and the way he talked to Peng Dehuai, then China's Defense Minister, during the summer 1959, and then see the photo Hou Bo took of him in a bathing suit laughing with young friends by a lake at Lushan Mountain, you understand how complex this person is."
In addition to his work on Mao, Hudelot has been involved in numerous Sino-French cultural activities. He has produced many written works, radio shows and television documentaries about China.
"China is the biggest part of my life," he says. "There is no distance between China and me except the distance of the flight."
Hudelot's fascination with China began in 1964. When his father was transferred from India to work as director of the Alliance Francaise in Hong Kong, Hudelot took a train from Paris through Moscow to Beijing.
He knew nothing about the country but was impressed during the first visit.
"The Chinese were very poor and revolutionary," he says.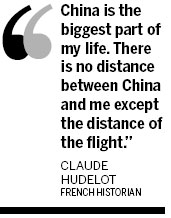 Hudelot recalls seeing people clad in the same patched-up blue clothing, basic food, and throngs of bicycles on the streets.
"Where are all those bicycles now? They've disappeared from China and seem be showing up in Europe," he says, laughing.
He began studying Chinese after returning to France and earned a master's degree in contemporary Chinese history from the French National Oriental University in 1969.
After a brief stint as a university instructor, Hudelot became a radio producer at the French national public radio station, France-Culture.
In 1979, Hudelot returned to China with his French crew for seven weeks. They visited Beijing, Luoyang, Xi'an, Chongqing, Wuhan, Kunming, Yangzhou, Shanghai, Nanjing, Guangzhou and Hong Kong. The material they gathered was used to create a 50-hour radio program that won a national radio award in 1980.
"That was the first time a French crew had visited China," he says.
"We wanted to make a long and in-depth radio program at that very important moment, when China was really opening its doors under Deng Xiaoping."
The changes that had taken place since 1964 were immediately apparent.
"We saw more colorful clothes and women's dresses, and restaurants," he recalls.
"People were dancing at night in Kunming. You could feel the greater sense of freedom.
"But there were still no big changes in the cities, no new buildings. Life was moving forward but slowly compared to today."
The program sparked international interest in China. Serving as director of the International Arles Photo Festival, one of the most important of its kind, Hudelot organized a China-focused photo exhibition. The event featured works by more than 80 international photographers, about half of whom were Chinese.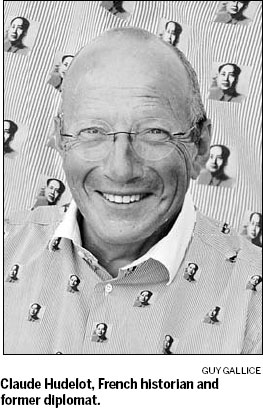 "What was very impressive about that year's festival is that through the exhibition and a 1-hour film we produced called 5 Chinese Photographers, people from not only France but also the whole world discovered Chinese photography existed."
Some Chinese photographers who captivated international attention included Wu Yinxian and Ling Fei from Beijing, Gao Yuan from Chengdu, Chen Baosheng from Shanxi, and Xia Yonglie from Shanghai.
Wu's portraits of leaders and the Red Army in Yan'an appeared on the festival catalog's cover. Chen's images of the farmers and horses in Shanxi were widely covered by French, Spanish, Italian, US and English newspapers.
The zenith of Hudelot's career was when he became the French Embassy in Beijing's cultural attach in 1993, he says.
He helped organize the first exhibition in China of works by French sculptor Auguste Rodin (1840-1917) at the National Art Museum in Beijing. More than 60 statues were displayed, including The Thinker.
News reports recorded the long lines of visitors waiting to get tickets. Some said they went seven times.
The show inspired pantomime actor Wang Deshun to create "living sculpture" performances in which he "resuscitated" Rodin's sculptures, posing like them in the nude.
Hudelot says the most important transformation he has witnessed over the decades is a shift in Chinese mentality.
"During the 1960s and 1970s, Chinese people were focused on China and their revolution," he says.
"They had no idea about the outside world, and they didn't travel at all. They were poor, and nobody was really rich. China, as a country, was on its own, isolated."
Now, Chinese people travel, and see the world through TV and the Internet. Many youth study abroad, he says.
"Some people are still poor - and in some remote regions are very poor - but many Chinese live well and some are incredibly rich."
But Hudelot believes these huge changes mainly impact urban people.
"There's one other problem worth mentioning: The young generation isn't involved in politics and doesn't want to be," he says.
"This is a complete change."
(China Daily 03/16/2010 page20)