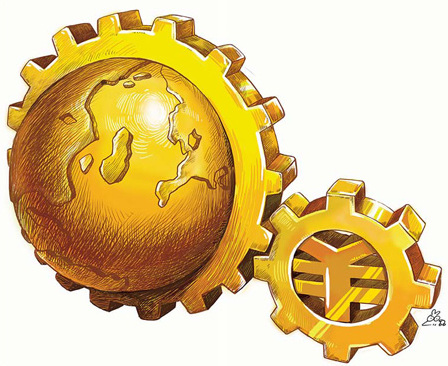 Expectations of stronger yuan will intensify this year, official says
BEIJING - The government is unlikely to buy large amounts of gold as a means to diversify its $2.39 trillion worth foreign exchange reserves, a senior official said, while stressing that "the US treasuries market is very important for China".
But the official cast no light on the prospects for the renminbi, which has been traded at around 6.83 per dollar since mid-2008, a move some countries speculate keeps the value of renminbi "artificially low" and helps Chinese exporters weather the global credit crunch.
"Gold cannot be a major investment to diversify foreign exchange reserves" as purchases could push up gold prices sharply. Also, the average long-term returns on investment in gold are low, Yi Gang, head of the State Administration of Foreign Exchange (SAFE), said on Tuesday at a news conference.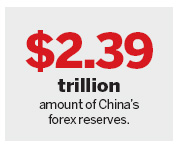 "If China purchases gold on a large scale, prices on the international market price will surge, which would, in turn, affect domestic individual consumers," Yi said.
Despite price rises in recent months, "gold prices have had drastic ups and downs in the past three decades or so, and the average returns are not very good".
According to SAFE figures, China's gold holdings surged to 1,054 tons in 2009 from 454 tons in 2003. The nation is the world's fifth-largest gold holder and the second largest consumer.
Analysts said Yi's remarks virtually rule out the possibility of Beijing buying 191.3 tons of gold from the International Monetary Fund, as speculated by some media. The reports suggested gold purchases could help China reduce the risk of holding large volumes of US dollar assets as a major part of its foreign exchange reserves.
But Liu Xu, senior metal analyst at China International Futures, disagreed. "I'm not surprised to hear Yi's comments. It is impossible to bet on gold for diversification of reserves."
The US holds 8,000 tons of gold, the highest in the world. Assuming China raises its holding to 10,000 tons, it would cost $300 billion based on current prices but that would account for only 15 percent of the country's foreign exchange reserves, Liu said.
The SAFE head also emphasized that "the US treasuries market is very important for China. There is no doubt both countries benefit from China's treasuries investment".
Some US legislators fear that China could gradually reduce its holding of US treasuries after relations turned sour as a result of recent spats over several issues.
"I don't want it (investment in treasuries) to be politicized," Yi said. "We are a responsible investor."
It is estimated that about 70 percent of China's foreign exchange reserves are invested in dollar assets. Overall, Yi said, "China has achieved fairly good yields from management of the reserves".
On currency policy, Yi, also vice-governor of the People's Bank of China, reiterated that China would keep the currency basically steady.
But Yi said expectations of a stronger yuan would intensify this year, attracting "cross-border arbitrage" funds, because of the country's relatively high interest rates.
Proceeds from exports would also rise as global recovery generated demand for Chinese goods.
"With foreign direct investment expected to increase steadily, China will be facing greater pressures from the rising amount of foreign exchange inflows," he said.

(China Daily 03/10/2010 page1)