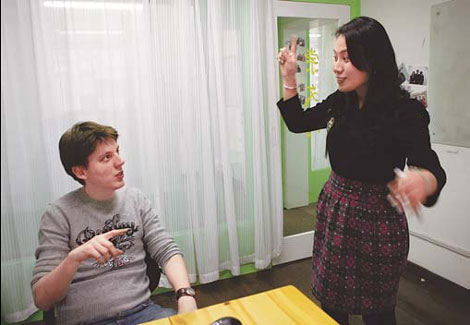 Daan Douglas from Netherlands learns Chinese from his teacher Wan Xin. Zou Hong / China Daily
The demand for Chinese language tutors is soaring as foreigners flock to Beijing.
"There has been a 10 to 20 percent increase in the number of foreign students learning Chinese every year," said Wang Yushan, the course consultant at Mandarin House, a private Chinese language school in Beijing.
"We currently have 2,000 students and 30 full-time teachers," said Wang. "And our courses are flexible to meet the different needs of the foreign students."
Guo Xiaochao, the founder of the That's Mandarin school, said, "we provide many ways for foreign students to study. They can have remote classes via the Internet, face-to-face individual classes or small group workshops.
He added: "there are many private Chinese language schools like ours in Beijing, but some of them are not as qualified."
Guo said the average price for a one-hour class is usually between 60 yuan and 200 yuan.
"We normally charge 100 yuan per hour. Foreigners often have the impression that everything is cheap in China, so Chinese courses should be cheap. That's why they think the cost of tuition is high, but in fact, it's pretty reasonable and even lower than it should be", said Guo.
"Our school requires only 30 percent of the tuition as a deposit before the course starts. Some schools demand the full payment".
Autar Bhotish, who comes from Mauritius and is learning Chinese in Mandarin House, said the 43,000 yuan tuition fee for his package was expensive. He came to Beijing in September and registered for a six-month package of 30 hours per week.
"Schools with better service charge more, but the cheaper ones cannot offer good courses. It is hard for us to find a balance in the middle", he said.
Despite that, Bhotish has enjoyed
his learning experience.
"I like learning Chinese. I want to start an agriculture business between Africa and China in future, so I need to learn Chinese.
He said he expects more speaking practice.
"I like the small group discussions because then I can also learn from other members," he said.
Many schools have uploaded videos of sample classes online for students to watch before they register.
Guo told METRO that That's Mandarin began to use Skype to communicate with students and give sample face-to-face classes in 2006.
Zhang Dong, a Chinese tutor at Mandarin House, said many students choose their school because they need a flexible schedule to study.
"We give structured courses focusing on grammar as well as lively courses focusing more on Chinese culture and oral language practicing," Zhang said.
Meanwhile, Zhang also expressed his concern that the many teachers don't have a certificate for teaching Chinese and some don't even know where to get them.
"The government has not paid enough attention to this market. This has resulted in many irregular schools," he said.
CHINA DAILY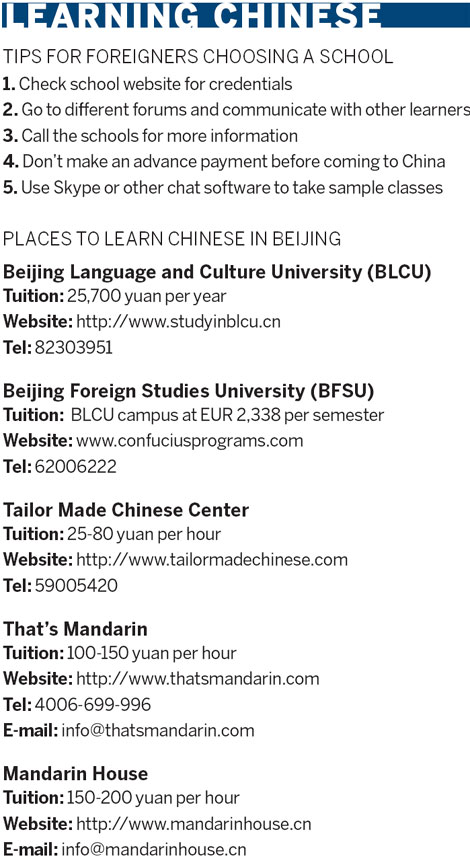 (China Daily 03/09/2010 page36)