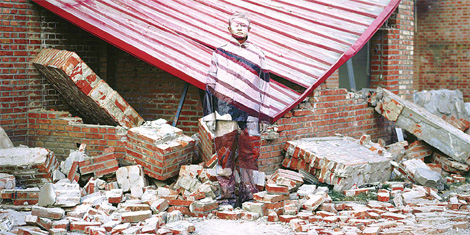 Liu Bolin blends in with a building in Suojiacun village in northeast Beijing. The photograph is part of a series called Hiding in the city. Photos Provided to China Daily
World-renowned performance artist uses his unique camouflaging style to provoke public thought on life and the world. Wang Ru reports
Liu Bolin sips coffee in a cafe in the 798 Art Zone of Beijing's Chaoyang district. The 38-year-old man, bedecked in a neat woolen coat and carrying a fine leather briefcase, looks more like a successful businessman than the talented performing artist that he is.
Liu was labeled "the invisible man" for his special art form - camouflaging himself within any surrounding, chameleonlike, for instance, a telephone booth, a police officer or a demolished building.
At his studio in the east suburbs of Beijing an assistant paints Liu's body and takes photographs.
Like many avant-garde artists, Liu reflects the social realities and difficult lives of ordinary people in the country. Over the past couple of years, he has focused on one of the most controversial issues - the violent demolition of civic buildings.
In 2005 Liu came to Beijing from his hometown in Shandong province, where he taught college painting and sculpture for 10 years. He described that time of his life as "a living hell".
"I was an underdog then," Liu said. "Without guanxi, or connections, it was very hard to gain an opportunity to be equal to everybody else, especially in the second-tier cities like my hometown," said Liu.
He conceded that he attempted to fit into the system, but his efforts were in vain. At last, he decided to seek another way to fulfill his dreams.
After arriving in Beijing, Liu began to study sculpture at the China Central Academy of Fine Arts and lived in Suojiacun village, the base of many young artists who must worry about their next meal.
"I had only one pair of pants then and often had not a single penny in my pocket," Liu said. "The only happiness was to talk with other artists living in the village."
Bulldozers eventually destroyed his home and spiritual paradise.
In 2006 the local government demolished the entire village. It was rumored that local officials feared the artists' radical artworks might cause public security problems. At last, the artists, including Liu, were swept out of the village.
"I witnessed our dwellings being demolished and our art destroyed," he said. "At that moment, my anger finally burst out, along with my inspiration."
Liu stood under the burning sunlight for six hours and painted his body and blended himself against a wall of a demolished building, where the local government wrote a propaganda slogan on it - "unify the minds, propagandize and educate".
"Individual rights often disappear amid the roaring sound of the government's will," he said.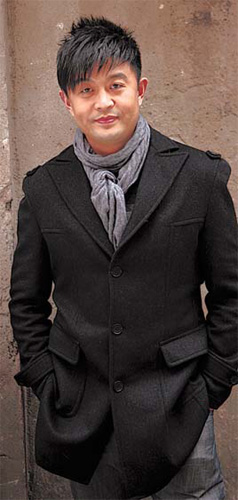 Liu Bolin, the "invisible" world-renowned artist, is based in Beijing.
Since 2006 Liu has created more than 80 "invisible" artworks. Some renowned art museums and galleries across Europe and the United States, such as the Guggenheim Museum, have collected his works. Liu has become one of the few contemporary Chinese artists acknowledged by the global art market.
Liu stares out a window, where his new Audi is parked outside the cafe. He now leads a comfortable life in Beijing, thanks to the growing contemporary art market.
Last month, he went to Shanghai and created an advertisement for Oris, a Swiss watchmaker.
"Artists are not saints. We are chasing a better life. Besides, a good financial condition can keep the independence and originality of my work," said Liu.
"What's the ultimate goal of our economy's development?" Liu pondered. Finding the answer to that question provides motivation.
"We have 70-year ownership right to our apartments, but what happens after that? What legacies can grandchildren inherit from us? " Liu asked.
"I agree that an individual can sacrifice for the collective benefit and perhaps our government has reason to demolish the civic houses for development, but in the first place, we all need to ask ourselves are we heading in the right way?" he said.
"In this country, important qualities are often absent, such as respect to individuals, independent will and a spiritual world for all of us."
One of Liu's favorite works is of five nude, middle-aged workers standing together, camouflaged amid walls of a deserted factory workshop. In 2007 Liu spent six months with the workers, all of whom had been laid off from factories. "I listened to their life stories and shed tears with them together," Liu said. "It was hard to persuade the middle-aged workers to take off their clothes and having their bodies painted, but they finally agreed."
"I felt the sorrow hiding in the corners of the concrete jungle. They were helpless and nobody cared about their lives," said Liu.
Liu, who will continue his invisible artworks, is plotting more performance art. Recent inspiration has him painting with the traces left by bicycle tires.
"No matter how diverse the art form, my only purpose is to attract more people to understand the meaning hiding under my work and to think about our lives and the world," said Liu.
(China Daily 03/01/2010 page38)