WHISTLER, Canada: Russia's biathlon relay team revealed the secret weapon behind Tuesday's gold medal success at the Winter Olympics and recommended their rivals do the same: have babies.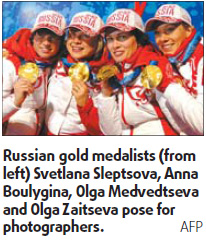 Olga Zaitseva, who anchored the Russian team and leaves Vancouver with a gold and silver medal from Sunday's mass start, said giving birth to her son, Alexander, in 2007 has helped her as an athlete.
After France took silver while Germany claimed bronze in the relay, the 31-year-old told her rivals to get themselves pregnant if they want to win gold at Sochi in four years time when Russia hosts the Games.
"My child is my greatest happiness and he is my best little gold medal," said Zaitseva. "It has made me calmer. I would recommend to the French and German teams as well, don't be afraid, go ahead and have babies - and get better in sports."
Three of the Russian team are mothers and Anna Boulygina put her gold medal into perspective.
"No medal compares to having a child," said the 30-year-old. "I think children are the main thing women are designed to do.

"Having a family is an enormous help to me and it is due to their support that I am able to achieve this result, so the answer is yes, it helps."
And their teammate Olga Medvedtseva recommended aspiring medalists should not be afraid that having children may affect their performance.
"I would say it is a very stimulating experience and I would recommend having kids, don't be afraid of it, you will only get better as you are all so young," the 34-year-old told her rivals.
Russia shrugged off recent controversies to win the relay gold with compatriots Yekaterina Yurieva and Albina Akhatova serving two-year bans for doping offenses.
The Russian team came home to a sea of their flags at Whistler Olympic Park.
"We were overwhelmed that the entire stadium was covered with Russian flags and that was definitely helpful for us," said Boulygina.
The Russian team's winning time was 1hr, 9min, 36.3sec as France's Sandrine Bailly produced a brilliant effort on the final leg to beat Germany to the silver.
AFP
(China Daily 02/25/2010 page24)