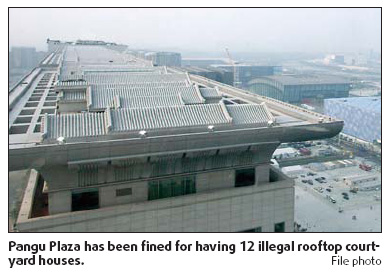 The dragon-shaped Pangu Plaza, which overlooks Olympic Green and is next to the iconic Bird's Nest Stadium, has been fined an undisclosed sum for its luxury rooftop courtyard houses after city authorities ruled it had made "illegal constructions".
The 192-m tall Pangu Plaza was designed by world renowned architect Li Zuyuan, who is responsible for the Taipei 101 tower.
Li built 12 courtyard houses on the roof of three buildings that covered a total area of 11,298 sq m.
The courtyard houses have been so sought-after that some Chinese tabloids even claimed billionaire Bill Gates rented one for 100 million yuan a year ahead of the 2008 Beijing Olympics.
"It is really gorgeous, as if I can touch the sky," Chen Le, a businessman, recalled after standing in a Pangu courtyard in 2008. "The decoration was quite luxurious, with a strong traditional Chinese flavor. When I was there, a tenant was hiring people to place precious orchids there."
But Beijing municipal commission of urban planning posted an announcement on its website recently saying the courtyards violated planning laws and noting that the building's investor, Pangu Investment Limited, would be fined.
"Our company received the notice in early 2009 and we have already paid the fine," Yang Rui, marketing manager at Pangu Investment Limited, told METRO yesterday.
"As long as we finish all the procedures and the Beijing authority has accepted our fine, the courtyard houses have the right to continue to exist," Yang added.
"They (the Beijing municipal commission of urban planning) did not ask us to destroy them, just pay a sum of money."
Yang would not reveal how much money changed hands but, according to Beijing's urban planning rules, "illegal constructions" can be fined up to 3,000 yuan per sq m.
"When we planned to construct these courtyards, we submitted documents on the design change to the commission at the same time. If the design change is not approved by the authority, it is a violation. But now, it is not," Yang said.
The 12 courtyard houses are only for rent, not for sale. Local media has reported they rent for as much as a million yuan a day, or 100 million yuan a year.
Yang said that price was not correct.
He said sales in the building have been brisk.
In addition to Pangu Plaza, 12 other Beijing property developers have been fined for making illegal constructions.
(China Daily 02/24/2010 page25)