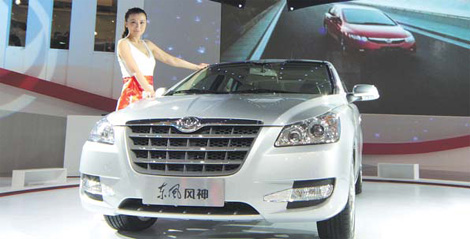 Dongfeng had no self-developed cars until last year, when it launched the Dongfeng Fengshen S30, a mid-class model that sold a total of 22,000 units from July to December. Wu Changqing
Dongfeng Motor Corp, China's third-largest automaker, almost doubled its profit last year as China became the largest vehicle market in the world and domestic sales boomed.
The parent company of Hong Kong-listed Dongfeng Motor Group Co Ltd sold a total of 1.9 million vehicles last year, a 43.6 percent surge from 2008, generating revenues that rose 30 percent to 256.4 billion yuan.
With government incentives extended into 2010 and Dongfeng's potential in lower-tier cities, the company has set a sales goal of 2.22 million units this year, up 17 percent from 2009.
Dongfeng Motor Corp has long been the leading domestic truck maker. Its two commercial vehicle subsidiaries had combined sales of more than 400,000 units last year to rank No 1 nationally in the heavy, medium-duty and pickup truck segments.
Self-developed cars
Yet the company had no self-developed sedans until last year, when it launched the Dongfeng Fengshen S30, a mid-class model that sold a total of 22,000 units from July to December.
"That's one small step for the Fengshen S30, one giant leap for the whole enterprise," said Xu Ping, president of Dongfeng Motor Corp.
Following the encouraging start, the company recently rolled out a second new model, the Dongfeng Fengshen H30 hatchback, using the same undercarriage as the S30.
The company expects combined sales of the two models to reach 60,000 units in 2010. It also plans to offer a hybrid model as well as a crossover this year, according to earlier media reports.
Joint ventures
The vast majority of Dongfeng's passenger vehicle sales are from its four joint ventures with foreign partners.
Its joint venture with Nissan Motor posted the biggest sales volume among the four as its 2009 sales jumped 48 percent to 518,000 units. Four models - the Teana, Sylphy, Tiida and Livina - proved to be especially successful last year, each seeing monthly sales of over 10,000 units.
The Sino-Japanese partnership now has two passenger car plants in China with combined capacity of about 460,000 units. It also has a 240,000-unit facility under construction that will be completed by 2012.
Aiming to move 600,000 cars this year, the company maximizing capacity at its existing plants by working three shifts a day and modernizing equipment.
Dongfeng Honda Automobile Co, a joint venture between Dongfeng Motor Corp and Japan's Honda Motor, is also straining to meet demand. Last year, it sold a record 210,600 cars made at its plant designed for an annual output of 200,000 units.
The joint venture began building a second plant last month and will put it into operation in 2012. Until then, it says the existing plant will be further streamlined to produce 240,000 cars this year.
The CR-V SUV was the star of Dongfeng Honda last year. Its sales of 105,233 units comprised almost half of the joint venture's total.
Another Dongfeng partnership, with French carmaker PSA Peugeot-Citroen, also enjoyed rapid growth last year, with sales surging 52 percent to 270,000 vehicles. The operation produces the Dongfeng Citroen and Dongfeng Peugeot, combined sales of which are projected to rise by more than one-third to 370,000 units this year as more new models are rolled out and dealer networks expanded.
Dongfeng Yueda Kia, a three-way joint venture between Dongfeng, China's Yueda Group and South Korea's Kia Motors Corp, saw sales skyrocket 70 percent to 240,000 units last year. The company will launch the SLc, an all-new SUV, in the second half of this year. Its full year sales goal is 330,000 units.
(China Daily 02/08/2010 page18)