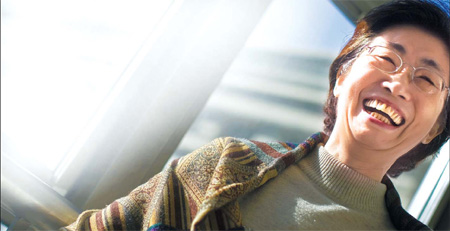 Weng Yongkai, a former barefoot doctor in Jiziwan village, Shaanxi province, who now heads the Aixin Foundation, which focuses on rural healthcare. Jonah M. Kessel
As the Chinese government continues to reform rural healthcare, some villagers are still falling through the cracks. Daniel Chinoy reports
Song Xiuru has spent most of her life in Jiziwan, a small collection of mud and brick buildings nestled in a valley in the loess mountains of northern Shaanxi province. Isolated and poor, most residents of the village survive by growing millet and apples, or working in small factories in the nearby city of Fuxian.
Last year, the 59-year-old suffered a minor stroke, which in such a remote place would have been financially devastating and potentially fatal just a few years ago.
But under a medical insurance program that is now a major feature of the central government's rural healthcare policy, Song was admitted to the county hospital and reimbursed for 6,400 yuan ($940) of the 8,000 yuan she paid for treatment.
"Now the economy has developed, healthcare is much better than before," said Song, who has fully recovered. "Government policies now give people in the countryside healthcare, so you get reimbursed for the cost of most treatments."
That she was able to receive treatment and afford it is one example of how the State Council has put time, energy and political capital into reforming China's healthcare system, especially in the countryside. Yet while Song and many other villagers in Jiziwan expressed satisfaction with the new system, others in rural China have fallen through the cracks despite the reforms.
Beijing has also invested huge sums of money, including an 850-billion-yuan package announced last April designed to reduce costs and make healthcare more accessible nationwide. Much of it will be spent expanding coverage and increasing benefits for villagers, with funds going toward strengthening hospitals and small rural clinics. Subsidies for medical care and training for doctors and nurses are also being increased.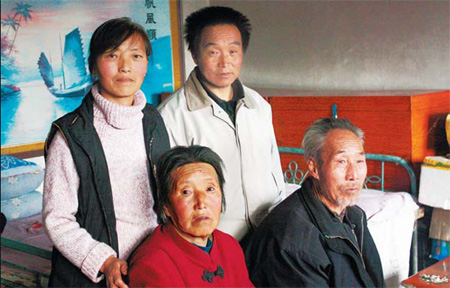 Yang Fangrong (standing, left) with her husband and parents in Jiziwan. Daniel Chinoy
The reforms also include the creation of a National Essential Drug List that contains 400 to 700 medicines covered by basic medical insurance. Prices for drugs on the list will be set by the government to rein in over-charging and over-prescribing by medical professionals.
The measures were designed to build on previous reforms, such as the New Cooperative Medical System, the 2003 initiative that helped Song and now covers 830 million rural residents - a higher proportion of the population than is insured in the United States.
Many experts say these efforts have been effective. "I think the Chinese government has done really a good job in pushing the reforms," said Gordon Liu, chairman of the department of health economics and management at Peking University.
But they did little to help Song's fellow villager Yang Fanrong, 48, who in 2006 was diagnosed with aplastic anemia. The rare blood disorder weakens the immune system and causes chronic exhaustion, and without treatment Yang feared she would be unable to care for her three children.
After borrowing almost 30,000 yuan from friends and family to pay for medical tests, she discovered that the rural health insurance program she was enrolled in did not cover the drugs she needed.
Her medicine would cost at least 300 yuan a month, but her family survived on just 700 yuan a month, most of which came from her husband Wang Tianshan's job shoveling coal into a furnace at an oil refinery.
"I couldn't stop crying. I felt under so much pressure. I didn't want to live anymore," said Yang.
That two women from the same village had such different experiences underscores both the remarkable achievements and continuing gaps in the rural healthcare reforms. But like so many things in modern China, the complex healthcare situation is not only the product of recent developments. It reflects the enduring legacies of Mao Zedong and Deng Xiaoping, two men who have arguably influenced the development of rural healthcare more than anyone else.
In 1965, Chairman Mao gave a speech outlining his thoughts on healthcare, arguing that extensive training and education was unnecessary for doctors in the countryside.
"The real learning will happen during actual practice," he said. "If this type of lowly educated doctor is then sent to the countryside, he will always be able to do a better job than the charlatan shamans, and the peasants will be able to afford such care."
Three years later, almost every village had a "barefoot doctor" - so called because they also worked in the fields, often barefoot in the rice paddies of South China. These were usually young people from the cities sent to "learn from the peasants" during the "cultural revolution"(1966-76) and, at most, had six months of basic training. Each doctor was supported by a village's collective or work unit, which provided food, housing and "work points", which were the equivalent of money during the Mao era. The program was called the Rural Cooperative Medical System.
Jiziwan's barefoot doctor was Weng Yongkai, who arrived as a petite but tough 18-year-old from Beijing in January 1969.
"During the day we worked in the fields. At night, back in the village, sometimes villagers came to ask for help and you just go. We didn't have any background for that. It was just learning by doing," she said.
The care Weng provided was simple: basic hygiene, massages, acupuncture, and treatment for colds, headaches, cuts, and bruises. She also helped deliver babies. More serious illnesses required trips to regional clinics and hospitals, which were far away and, despite being run by the State, charged small fees.
"Given the economic challenges China faced at the time, the program was actually effective," said Yang Tuan, head director of the social policy office at the Chinese Academy of Social Sciences. "The villagers really appreciated it."
According to a 2006 study by Zhongwei Zhao, a professor at the Australian Demographic and Social Research Institute, showed the average life expectancy in China rose from about 61 years in 1970 to about 65 by 1981 - a greater increase than in Japan and South Korea over the same period.
"We were able to treat small illnesses, which prevented them from becoming big sicknesses," said Weng.
In 1978, Deng Xiaoping initiated major reforms that opened up the economy and eventually helped hundreds of millions of people escape poverty. As the collective farms were abolished and China reengaged with the world, the quality of life for most Chinese, including in Jiziwan, improved dramatically.
Incomes have increased, and electricity is now widely available, about a third of graduates from the village school go to college, also there is now always enough food to eat. "It's not a little better, it's a lot better," said Weng, who returned to Beijing in 1975 and enrolled at Peking University two years later. She went on to earn a PhD in molecular biology in the US and today is president of the Aixin Foundation, which is based in the Maryland and focuses on rural healthcare issues in China.
The decision to abandon the collectives, however, meant resources previously used to support barefoot doctors and rural clinics dried up, leaving millions of farmers without access to affordable medical care.
"Because the program was piggybacked on the commune system, in the early 1980s when the de-collectivization process began, the system itself lost its financial base," said Yanzhong Huang, an expert on public health in China with Seton Hall University in New Jersey.

The Rural Cooperative Medical System, which was available in more than 90 percent of the Chinese countryside, covered just 5 percent of villages in the early 1990s, according to Zhao's study.
The trend towards privatization also affected healthcare. Even State-owned hospitals were opened to private investment and much of the government's spending shifted from the countryside to the city.
"The ministry called for the reform to be implemented based on the laws of the market economy. They treated health issues like the economic sector," said Huang.
This led to higher quality care but higher prices. "When people went to see a doctor, the care involved more technology, so it became more expensive," said Liu at Peking University.
Cuts to government subsidies for hospitals left doctors reliant on fees to make ends meet, exacerbating the problem of high costs, said Ray Deng, a researcher with Peking University's center for pharmaceutical outcomes research. "Basically, (the government) said, 'How you get paid, that's up to you'. So doctors marked up the price of services and drugs, and over-prescribed."
More than 50 percent of medical revenue in the countryside came from selling medicine, added Huang.
Ministry of Health figures show the cost of visiting a doctor skyrocketed by 625 percent in rural areas between 1990 and 1999, while per capita income increased only 222 percent during the same period.
As it became clear the rural healthcare situation was unsustainable, the central government created three major insurance programs: one for urban employees in 1998, the New Rural Cooperative Medical System in 2003 and one for unemployed urban residents in 2007.
Under the 2003 initiative, each person is entitled to an annual 120-yuan subsidy towards medical bills. Villagers usually contribute between 10 and 50 yuan, while the provincial and central governments make up the rest. But as Yang discovered, the system does not pay for all drugs.
"It's a reflection of a policy mentality that is 100 miles wide and one inch deep," said Deng. "You might have 99 percent of people covered but the benefits are often very limited."
The State Council also acknowledged other problems when it announced its 850-billion-yuan healthcare overhaul last year, including a continued disparity between urban and rural areas, poor pharmaceutical regulation, an incomplete medical insurance system, insufficient funding and "soaring" medical costs.
The poor service and scarcity of local clinics in rural areas also forced many villagers to go directly to major hospitals for smaller ailments. The resulting overcrowding made simply seeing a doctor, even if a villager could afford it, difficult. "The individual burden is too heavy," said a State Council statement in April.
In a sense, this renewed focus on providing universal access to cheap, basic care represents a return to the spirit of the Mao era after about a 15-year experiment with a more privatized system.
"China went from barefoot doctors to the market approach, and now they're essentially going back to the primary healthcare approach," said Sarah Barber, a healthcare economist with the World Health Organization. "You see very high political commitment. This is certainly needed in any health reform agenda. The implementation of these complex reforms will be an enormous challenge."
For Song, the reforms have proved a lifesaver. The rural insurance program still does not cover Yang's aplastic anemia. Still, she is lucky. Almost 40 years after Weng arrived in Jiziwan, the village's former barefoot doctor is buying the medicine Yang needs with her own money.
"Without her help, I don't think I would have survived," said Yang.
(China Daily 02/05/2010 page7)