LHASA: The "roof of the world" is getting warmer.
The average temperature in the Tibet autonomous region was 5.9 C last year, 1.5 C higher than normal and a record high in almost four decades, latest figures from the regional climate center showed.
The 2009 climate report, issued by the center yesterday, was based on meteorological data collected from 38 observatories across Tibet, said project leader Zhang Hezhen, a specialist with the regional weather bureau.
"Temperature changes were observed almost everywhere," Zhang said.
The average temperature across Tibet spanned from minus 1 to 13.6 C last year, 0.8-2.3 C higher than normal, she said.
"Average temperatures recorded at 29 observatories reached record highs."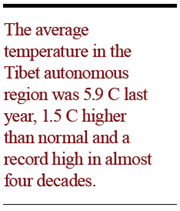 Zhang said temperature rises occurred in both summer and winter.
"On the hottest summer days in regional capital Lhasa, high temperatures reached 30.4 C last year, compared with the record 29.9 C of 1971."
In Xigaze, the maximum daytime temperature hit 32.5 C, 0.5 C higher than the previous record.
In Xigaze's Dingri county, where the base camp of world's highest peak Mount Qomolangma is located, the maximum temperature was 25.8 C, 0.7 C higher than the previous record.
Zhang and her colleagues have also observed a drop of rainfall by at least 20 percent.
"Tibet received an average precipitation of 363 mm last year, a record low in 39 years," she said.
The worst drought in decades affected Lhasa and Xigaze, as well as Shannan, Nyingchi and Qamdo prefectures last summer, forcing residents to buy bottled water or carry water from afar.
Xigaze's Lhaze county also suffered a locust plague after 23 hot, rainless days. The worst-hit areas had 500 locusts on each sq m of cropland.
The regional government said more than 740 hectares of cropland were plagued by pests last year as a result of sustained drought.
Zhang Hezhen, who was born and raised in Lhasa, said she had witnessed some of the climate changes.
"When I was a child, I saw twigs and branches bending under the weight of snow along Lhasa's streets every winter," she said.
The Tibet plateau, with an average altitude above 4,000 m, is a "magnifier" of global warming as it is more sensitive to temperature changes, said China Meteorological Administration chief Zheng Guoguang.
Since meteorological records began in Tibet in 1961, the mercury climbed an average 0.32 C every decade, much higher than the national average temperature rise of 0.05-0.08 C every 10 years, Zheng said.
Tibet's temperature rise also topped the global average of 0.2 C a decade.
"Blockbuster disaster movies such as The Day after Tomorrow and 2012 have sounded the alarm," Zhang Hezhen said.
"It's high time for all of us to take global warming seriously and think about what we can do to save the earth."
Xinhua
(China Daily 02/05/2010 page3)