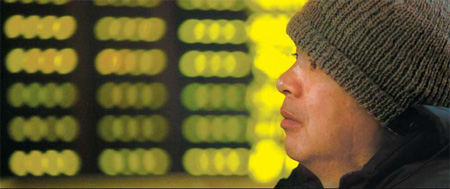 An investor at a brokerage in Changchun, Jilin province. Analysts say China's institutional investors should be better regulated and bear more responsibility when offering prices. CFP
Some firms profit-driven, not responsible when proposing price
China's top securities regulator said on Friday that the current high level of initial public offering (IPO) prices is partly due to institutional investors' high price offerings in the inquiry process.
"Some institutions are simply profit-driven and are not responsible when proposing a price. This has helped drive up IPO prices," Zhu Congjiu, a spokesman for the China Securities Regulatory Commission (CSRC), said at a seminar on the reform of the IPO mechanism in Shanghai on Friday.
His comments signaled the regulator's intention to rein in excessively high valuations by further adjusting the country's IPO pricing mechanism.
Zhu said institutional investors should be better regulated and bear more responsibility when offering prices.
"In developed markets, 90 percent of the new shares are subscribed to by institutional investors and they are strongly constrained when offering a price because they have to pay with real money. But in China, most shares are allocated to smaller investors who are less constrained in the price offering process," he said.
It has been reported that the regulator may delay or suspend the approval of new share issues while it is working on new measures to improve the existing mechanism for IPO price setting and underwriting.
The market in recent months has seen a wave of new shares dropping below their offer price. XD Electric Co, the country's biggest maker of electricity transmission and distribution equipment, fell 1.4 percent on Thursday, becoming the first mainland company since 2006 to drop below its offer price on its first trading day.
Other IPO heavyweights including China Metallurgical Co Ltd and China Shipbuilding Industry Co Ltd also fell below their offer prices.
"It is within the expectations of the regulator that the shares of many listed companies drop below the offer price," said Zhang Guangwen, an analyst at Guangdong Securities.
Zhang noted that a high price-to-earnings (P/E) ratio is the major factor driving down share prices. The average P/E ratio on ChiNext, China's NASDAQ-style board, has reached 60 times, and some of the newly listed companies even had a P/E ratio of above 100.
But Zhang said the phenomenon of new shares dropping below the offer price could be a good thing for the market as it may help curb speculative sentiment and highlight the potential trading risks for investors.
CSRC revised the rules on the IPO pricing mechanism in May 2009 by adopting new measures including improving price inquiry and subscription, limiting subscription channels on the Internet or through agents, and setting a maximum subscription amount for each investor that subscribes on the Internet.
(China Daily 01/30/2010 page9)