The name Peng Peng has been selected among many candidate names for the Australia Pavilion's kookaburra mascot for the Shanghai World Expo 2010 after a two-month campaign to gather public feedback.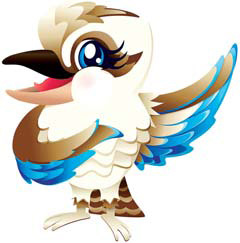 "The written character Peng evokes a sentiment of glory and ambition in Chinese and is indicative of our desire for a successful expo. The name also means friendship and as such conveys the deep people-to-people and business links that exist between Australia and China," Commissioner General Lyndall Sachs told China Daily.
A uniquely Australian animal, the kookaburra is easily recognized by its cheerful and distinctive laugh.
Like its relative the pied kingfisher that lives in China, the kookaburra is a gregarious bird - sociable, communal in its living, and able to be tamed.
According to aboriginal dreamtime stories, spirits from the sky asked the laughing kookaburra to laugh his loudest just before sunrise to awaken all those slumbering so they could see how beautiful the earth looks at dawn's first light.
Today many city inhabitants still awake each morning to the sound of the kookaburra.
(China Daily 01/26/2010 page15)