German commercial vehicles maker MAN Nutzfahrzeuge Group plans to grow sales in China by 40 percent this year and further expand its market share in the imported premium heavy-duty truck segment.
"We are planning to sell more heavy-duty trucks this year," said Benny Lim, president of MAN Truck and Bus China.
Last year, the world's third largest truck maker accounted for nearly 380 of the 5,000 heavy-duty trucks imported and sold in the country.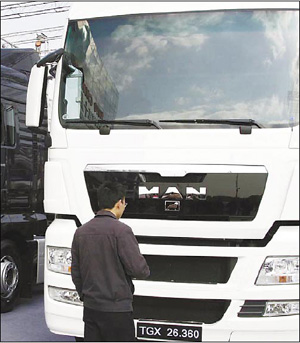 A MAN heavy-duty truck displayed at an automobile expo in Beijing recently. The German truck maker said it sees huge untapped potential in the Chinese market. Ren Qiu
"The good sales performance boosted our market share in China's premium heavy-truck market last year. We are confident of growing our market share further in the next few years as there still exists immense untapped potential," said Lim. He, however, refused to disclose the market share figures.
After witnessing a slowdown in the first half of last year, China's heavy-duty truck segment has started to recover in the second half and is likely to grow 10 to 15 percent this year.
According to Lim, the government's huge investments in infrastructure construction would help improve demand for large-displacement and heavy-duty trucks.
"Although the premier heavy-duty truck segment in China is still quite small, it is one of the most competitive and potential markets in the world," said Lim. "Achieving the sales and market share targets here is going to be a huge challenge for us," he said.
To achieve the goals, Lim has outlined a three-pronged strategy.
For starters the company will continue to bring Chinese customers the right products, to meet the rising demand for modern logistics, said Lim.
"At the same time, we will expand and upgrade our service network as customers now expect high-quality services, which also needs to be backed up with high quality professionals and experts," he said.
Commercial vehicles from MAN have been a feature on Chinese roads for many years now, with more than 70 percent of MAN and its Steyr trucks made under license in the country.
Last October, MAN acquired a 25 percent stake in Sinotruk, the Hong Kong-listed unit of heavy-duty truck maker China National Heavy Duty Truck Group Co, for 560 million euros.
MAN will help Sinotruk in making their engines compliant with the Euro III, Euro IV and Euro V standards over next few years through a continuous process of technology transfer.
The German firm began operations in China in 2004 and currently sells commercial vehicles and diesel engines, apart from partnering in several bus projects.
(China Daily 01/26/2010 page13)