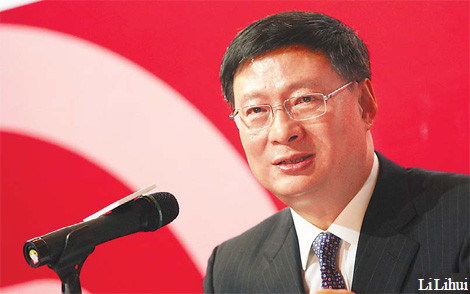 Lender to sell equity equivalent to 20% of its outstanding stock
Bank of China (BOC) is planning to raise additional capital by selling new shares in Hong Kong after its 40 billion yuan convertible bond sale on the mainland, analysts said yesterday.
The nation's third largest lender by market value is likely to sell only its H-shares traded in Hong Kong, and is yet to decide on the timing and size of issue, BOC President Li Lihui said on a conference call yesterday.
The remarks came after the country's largest foreign exchange lender announced on Friday that it would float a 40 billion yuan convertible bond issue in the A share market to shore up capital and maintain lending capacity.
Apart from the convertible bond issue, the bank has no other fund-raising plans in the mainland market, Li said, allaying fears that hefty share sales would upset the mainland stock market, which is already showing signs of strain after a glut of share issues last year.
The bank said in a statement that it would seek approval from shareholders to sell equity equivalent to as much as 20 percent of its outstanding shares. That also indicates roughly the size of the new offering, said analysts.
"We expect the bank to net around 60 billion yuan from the H-share sale. The funds raised from the Shanghai and Hong Kong markets may lift the lender's capital adequacy ratio by nearly 2 percent in the next two years and help grow its lending by 15 percent annually," said Qiu Zhicheng, a banking analyst with Guosen Securities.
The record-setting credit expansion last year saw BOC's capital adequacy ratio falling to 11.63 percent by the third quarter of 2009, against the statutory requirement of 11 percent for major banks.
Liu Mingkang, chairman of China Banking Regulatory Commission, had earlier this month said new lending would be capped at 7.5 trillion yuan this year, a clear indication that loan growth would be curbed.
BOC was one of the lenders that needed capital infusions after the record 9.6 trillion yuan lending spree last year. Analysts expect more lenders to go in for fund raising after the BOC float.
Qiu said BOC's fund-raising plan would have major implications for others like Industrial and Commercial Bank of China (ICBC) and China Construction Bank (CCB), and they may also consider convertible bond issues as a measure to cushion market pressure.
Meanwhile the fact that investors are concerned over the continuous fundraising by banks was reflected by the benchmark Shanghai Composite Index yesterday after falling by nearly 1.1 percent to close at a one-month low of 3094.41.
Major lenders ICBC and CCB saw their A share prices fall 0.9 percent and 1.8 percent respectively. BOC's A shares were among the least affected bank stock, which fell 0.5 percent to 4.1 yuan yesterday, while its H share fell by a larger margin of 2.3 percent, to HK $3.8.
Other major losers included automaker SAIC Motor Corp, which fell nearly 1.5 percent to 21.31 yuan on reports that tighter credit would curb vehicle sales. PetroChina Co slid 1 percent, to 13.39 yuan, as crude fell.
The Shanghai Composite Index has fallen nearly 5.6 percent this year on concerns that the government intends to use policy tools to cool the economy.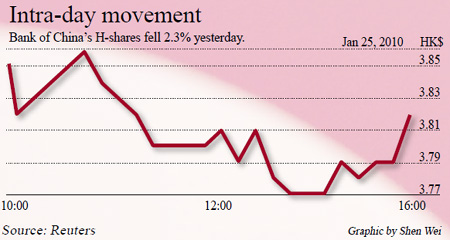 (China Daily 01/26/2010 page13)