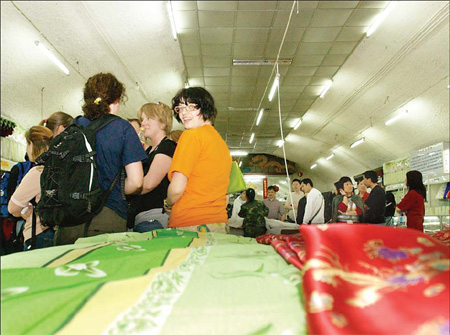 Visitors tour an "underground city" beneath Xidamo Street in Chongwen district. The location was once an air defense project. Xing Guangli
Dongcheng district's ambitious idea draws public attention and concern
Dongcheng district will dig and clear out 8 sq km of underground space in the next 20 years to fill with public constructions including shopping malls and subterranean roads.
With 625,000 residents and 37 percent of the city's protected historic sites, the 25 sq km district is bursting at the seams with new buildings and expanding streets.
So to allow for greater development, an ambitious plan was released last Wednesday by the local government which claimed the "new Dongcheng" would have three floors of underground space.
Yao Wei, secretary general with Dongcheng district committee of the Chinese People's Political Consultative Conference and lead researcher in the underground investigation project, told METRO that more than 100 experts and government officers had been involved in research that suggested almost one third of the district's underground space was workable.
The space includes previous bomb shelters, the basements and car parks of business complexes, residential apartments and public buildings, as well as subways and underground utilities.
Yao said the bomb shelters are relics from a forgotten time and most have been abandoned.
"Some were renovated as underground hotels. Some have even been used to grow mushrooms by local residents due to the humid environment," he said, with a slow shake of his head.
"Land resources in the city are rare, but Dongcheng district has a greater issue with space above ground," said Yao.
"The district is covered with 17 courtyard-house blocks, accounting for 50 percent of all the blocks in the capital," he said.
Yang said the focus was on going subterranean because rules from the municipal government state that buildings taller than two floors can no longer be built inside the Second Ring Road.
Data from property analyst website Anjuke.com revealed that second-hand properties in Dongcheng district were hitting average sales of 24,000 yuan per sq m in January, a 5.5 percent growth on the previous month.
Digging down is not a recent trend in the city. Beijing has dug out an average 3 million sq m of underground space every year since 2001, according to the International Academic Conference on Underground Space.
"The deepest underground space is the subway at 18 m, but experts say we can go as low as 50 m," said Jin Jianguo, a researcher of the project.
Jin added the project investigation team is paying close attention to potential risks such as the seismic belt and ground water permeation.
"Safety is essential. Our experts are also looking at the protection of large trees and historic relics," he said.
After a six-month investigation, the tremendous "underground city" has now been laid out as a preliminary blueprint.
Four to five subway stations for line 6 and 8 will be developed, with 30,000 sq m of underground business facilities for each.
Wangfujing, clustered by modern shopping malls and tourist attractions, is set to connect all the subways and commercial constructions underground.
Dongdan Park and Dongdan Sports Center will construct multi-story underground facilities.
In terms of getting around, a 5 km underground road will be built to link Yonghegong, or Lama Temple, to Dongdan.
Naturally, not every local resident welcomed the enormous underground project.
Liu Yongxin, owner of a clock shop along Dongsi Street, said the underground project might affect his normal life and business.
"When Line 5 was being built, residents felt shaking on the floor almost everyday," Liu said.
Xue Yan, a 31-year-old IT technician working near Lama Temple, is also worried about the upcoming construction work.
"The huge space will be hollow. If an earthquake hits, it could be very dangerous because passengers and vehicles may fall into the big holes," he warned.
Yang Xue contributed to this story.
(China Daily 01/21/2010 page25)