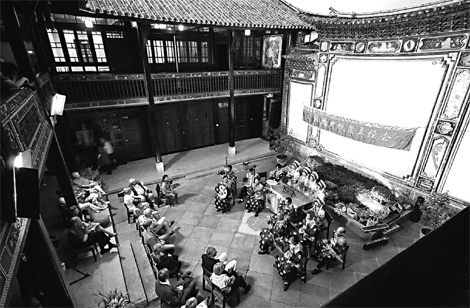 Bai ethnic musicians perform at Linden Center in Xizhou town, Yunnan province.  Courtesy of Linden Center
A sprawling estate dominated by Bai architecture in Yunnan's Xizhou town is now the Linden Center, offering a unique approach to Sinological studies. Erik Nilsson reports
When American Brian Linden sold his house in the United States to manage a historical building in Yunnan province's Xizhou town, this old friend of China started a new chapter in the country's rustic southwest.
He and his family put everything they owned on the line to become perhaps the first foreigners to manage a type-A national heritage site last year.
They reinvented the former estate of Yang Pinxiang, one of the Tea and Horse Road's most prosperous merchants, into a creative cultural center for exploring the traditions of Southwest China's countryside.
The Linden Center offers adult and family-focused educational and exchange programs dedicated to a range of Sinological studies, such as painting, photography and antiques.
"Our goal was to create a place that offered a rural intellectual base to understand Yunnan," Linden says.
"We hope to create an environment here that will allow people to escape the Beijings, the Shanghais, the Hong Kongs - to experience something completely removed from the cement and neon veneers of the coastal cities."
Linden shapes his stories with his hands, switching between English and Mandarin every few sentences. The gestures animate the thoughts he shares while seated on the center's rooftop terrace, his figure cast against sunlight-washed patchworks of farm fields that unfurl up to the base of snowcapped alpines.
The American, who has traveled extensively throughout China since the 1980s, spent more than two years from 2004 scouting the country's far-flung regions for the perfect venue to realize his vision.
The sprawling 20,000-sq-m Yang estate is one of the largest surviving structures of its kind and a prime specimen of the locally predominant Bai ethnic group's architecture. Its vernacular features include "sky wells" (small openings among buildings), a south-facing picture wall and swooping eaves terminating in upturned corners.
Yang's compound survived the "cultural revolution" (1966-76) because 125 People's Liberation Army soldiers holed up there during the period, fending off the Red Guards and Rebels.
But for all of its history and beauty, Linden says the center is just a starting point for surveying the idyllic surrounding area - a pristine and ethnically diverse settlement of about 3,000 wedged between Erhai Lake and the Cangshan Mountains.
"It's the culmination of our dreams to establish an elegant base for learning, sharing and exploring among communities thousands of years old and still relatively insulated," Linden says.
"This is an underrepresented region in terms of academic study."
He hopes that because the town is just 20 km from Dali's ancient city - a major tourist destination chockablock with bars, hostels and souvenir shops - Xizhou's townspeople will choose a less commercialized development model.
"You see the carriages," he says, as two horses clip-clop past with a brightly colored covered wagon in tow. "Those aren't for tourists; that's how they really get around."
The confluence of local conditions made Xizhou exactly the place Linden was hunting for.
"Our goal remains to develop a base for creative pursuits - a Yunnan-based Santa Fe," Linden says.
He points out that both cities share an altitude of around 2,000 m, ethnic diversity and majestic scenery.
"We want to become the impetus for Xizhou's growth as a living place of creativity."
It is a goal into which the family has sunk all of its money - nearly 6 million yuan ($880,000) - with no guarantees.
"We did it because we have a passion for the preservation of China's antiques and architecture," Linden says.
Much of the expense came from the challenges of preserving original structures while modernizing facilities.
As the local cultural bureau forbade tampering with the Yang estate's original wood or stone, the Lindens couldn't install fire sprinklers on the ceilings or run pipes through the walls. Instead, they built a pressurized water reservoir as large as an Olympic-sized swimming pool beneath the compound and ran the piping underground.
Despite the costs and hassles, the restrictions were congruent with the ethos of the family, which has long been engaged in the antiques trade.
"Most other ancient towns just demolish and rebuild," Linden says.
"The project has provided the Chinese with a model of restoration that is prudent and sophisticated."
Antiquated ponds, flower gardens and statues of local deities coexist with Wi-Fi access, modern toilets and a contemporary kitchen at the Linden Center.
Since the renovation, the family has lived on the second floor of one of the ancient compound's buildings. Its income mostly comes from program participants, who spend about $100 a night to stay in one of the center's 14 guest rooms.
But the global economic downturn is taking its toll.
While the first project attracted 35 guests who stayed for three weeks and 10 others had to be put on a waiting list, the same program attracted only five participants last year.
However, Linden says he isn't worried about the money.
"We are living our dreams now, and this allows us to overlook the initial financial struggles," Linden says.
The family believes running the center in Xizhou pays dividends worth more than cash.
"The gifts my wife, two boys and I get daily have been worth every cent," Linden says. "One of the greatest gifts I can give my children is being bicultural."
His wife Jeanee agrees.
"Our kids have adjusted to living abroad, and I am happy that they are growing up understanding both Chinese and American culture."
The experience's value is not lost on 11-year-old Bryce or 14-year-old Shane. "I like seeing the ways different people live," Bryce says.
His brother enjoys the international interactions, too. "I enjoy the experience of living in homes in such different cultures located on the other side of the earth," he says.
Brian met Jeanee, a third-generation Chinese American from San Francisco, when she was studying in Jiangsu's provincial capital Nanjing in the 1980s.
He had come to China in 1984 to study at the Beijing Language Institute and started as a production assistant for CBS TV news in 1985.
"It was a small bureau, so I got to do everything. That was partly because there wasn't much hard news coming out of China then."
Consequently, the 22-year-old was fortunate enough to meet top leaders, including Deng Xiaoping.
Linden went on to work as an education specialist, setting up programs in, or traveling to, 75 countries.
But he says there's good reason that after seeing so much of the world, he chose to stake his life in Xizhou.
"It still tickles me to wake up every day in the shadows of the Himalayas, and to be able to talk about Confucius or Buddhism with 80-year-old villagers always brings a smile to my face," he says.
"I would do all of this again in a second just to get the rewards of our family living this dream together."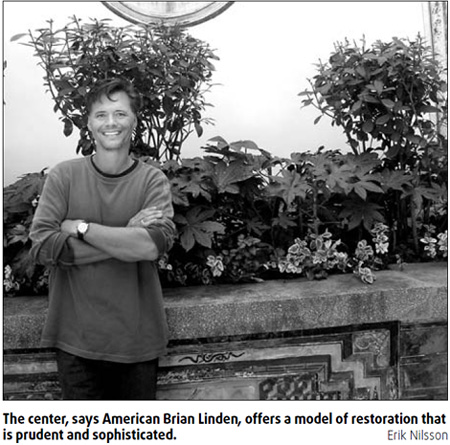 (China Daily 01/13/2010 page20)