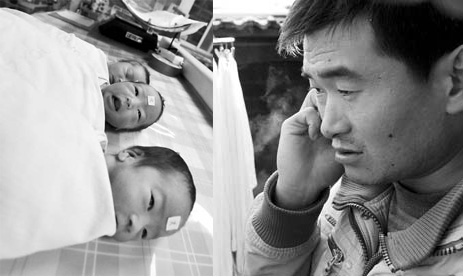 (Left): The Jan 1 photo shows the triplet girls, whose mother died of H1N1on Dec 29. (Right): The bereft and debt-ridden Tao Huajiang receives widespread media attention and public support. Photos by Li Ziheng
In an apartment decorated with colorful flowers, three new born triplets sleep soundly.
Their mother, Yang Cuicui, died just six days after giving birth, following complications of H1N1, or swine flu.
"We fell in love on Dec 29, 2008. On the same day, a year later, I buried her," says the father Tao Huajiang quietly, staring at their wedding picture on the wall.
Besides the formidable task of raising the three girls, the young father faces medical bills of up to 100,000 yuan ($14,200).
The couple first met on a blind date arranged by their neighbors and got married three months later in Pingdu city, Shandong province. The young couple were thrilled when Yang became pregnant with triplets. The first time they heard the heartbeats of their babies, they almost jumped with joy.
However, doctors advised the 25-year-old mother to consider doing away with one or two fetuses, saying that babies of triplet pregnancies are often born premature and with complications.
But the young mother told the doctors: "My triplets are inseparable, whatever the risks."
The following months were uneventful and happy. Tao comes from a farming family and works at a fertilizer factory, earning less than 1,000 yuan a month. Yang ran a clothing store in town, but sold it when she became pregnant.
Tao began to work even harder to save money for milk powder. The couple also raised sheep, hoping to nurse the babies with sheep milk to supplement mother's milk.
But as Yang neared the due date, a routine check-up revealed the babies risked premature birth and that the umbilical cord had wrapped itself twice around the neck of one of them.
On Dec 21, Yang came down with a fever and doctors diagnosed her with H1N1 the following day. Doctors immediately rushed her into the operation room and delivered her babies through cesarean section.
"I can't express the happiness I felt when I first saw my children, but my wife's condition made me anxious," Tao says.
Yang suffered serious bleeding and the fever didn't come down until a day later. Too weak to speak, she communicated with her husband by writing. "Have you given the girls names? Are they healthy? I'm eager to breast-feed them. I want to see the babies."
However, although the doctors and nurses at Pingdu Hospital tried their best, Yang succumbed to respiratory failure and other complications at 7 pm, on Dec 28.
On New Year's Day, Tao finally named his daughters. All three have "yu", which means "precious jewel", in their names.
The family's predicament has caught much media attention. A non-profit organization has donated 10,000 yuan, while a milk-powder manufacturer has promised to provide the babies with free milk powder for three years. Pindu Hospital has assigned Xie Jingshan, its chief pediatrician, to look after the babies. Some netizens have raised donations and some residents have offered to breast-feed the babies.
"We commit our support to the three sisters," says Pang Zengchang, president of the Qingdao Society for Twins Health and Development.
A more confident Tao says: "Life has to go on. I will take good care of the babies my wife has given me."
(China Daily 01/12/2010 page20)