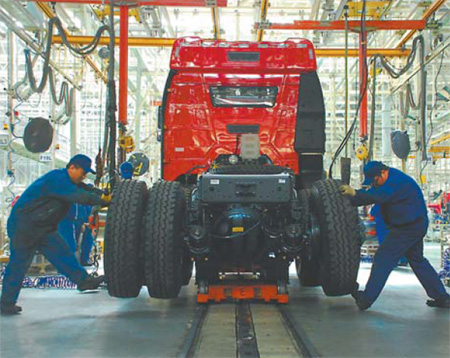 Workers fit the tires to the 10th million truck to roll off the production lines at First Automobile Works in Changchun, capital of Jilin province. Zhao Yingjian
Last year was a remarkable one for China's automobile industry. Not only did the country snatch the crown as the world's largest car market from the United States, Chinese companies also branched out to buy up foreign brands and assets.
China sold 13.6 million vehicles last year, 45 percent higher than 2008 and the highest growth rate for more than two decades, according to figures released by the China Association of Automobile Manufacturers yesterday.
The surge saw the nation's automakers surpass US firms by more than 3 million units.
New car sales in the US plunged 21 percent to 10.4 million units, a 27-year low, in 2009, showed statistics from the Center for Automotive Research, a US consultancy.
At the beginning of last year, Chinese automakers feared sales would not break the 10 million mark due to the gloomy economic climate after the industrial slowdown of 2008. But brisk sales saw analysts lift growth expectations every month, from a single-digit percentage to an unimaginable 40 percent.
The robust growth, in contrast to the plunge caused by the financial crisis in the West, were thanks in part to the central government's timely and active stimulus measures.
The stagnant car industry was given a shot in the arm in January last year when the State Council allocated 5 billion yuan ($730 million) towards providing 10 to 13-percent subsidies on vehicle purchases for rural residents. The government also halved purchase tax on vehicles with 1.6-liter engines or below, which make up nearly 85 percent of the market.
Subsidies of up to 3,000 yuan were also available for those looking to trade in their outdated and unsafe three- and four-wheeled farming machines for small, 1.3-liter or less vehicles.
The stimulus package successfully boosted automobile sales, especially minivans, which soared to 2 million units in 2009, an 80-percent year-on-year increase.
SAIC-GM-Wuling was the country's mini commercial vehicle sales champion, becoming the first Chinese automaker to sell 1 million units in a single calendar year. The firm's sales increased 63.9 percent year-on-year.
The stimulus package also helped Chinese homegrown brand BYD to boost sales by more than 150 percent to almost 440,000 units, making it the fastest growing automaker in China. The robust market has seen BYD raise its sales target for 2010 to 800,000 units.
After witnessing the fruitful results, the government last month said it will prolong the stimulus policies for one more year to further support the domestic automobile market. Officials went on to adjust the purchase tax for smaller cars from 5 percent to 7.5 percent of the total price, and tripled the ceiling for subsidies for trade-ins to 18,000 yuan per vehicle.
Miao Wei, vice-minister of Industry and Information Technology, was optimistic yet cautious on the outlook for 2010. China's auto industry will maintain sales growth but may slow to 15 percent, he predicted.
"The policy will contribute more to China's appeal for a high-fuel efficiency and low-emissions society as it encourages replacing outdated vehicles," said Yale Zhang, director of greater China vehicle forecasts for CSM Worldwide, a US auto industry consultancy.
Last year, China's domestic players also surprised the world with bold overseas acquisitions. Geely was the first to make a move, paying $56 million in March for Australian automatic transmission supplier Drivetrain Systems International to boost its capability in automobile parts technologies.
That deal was quickly followed by the announcement that Sichuan Tengzhong Heavy Industrial Machinery Co Ltd, a small, unknown company with no background in automobile manufacturing, was to take over luxury brand Hummer. The day before, Hummer's parent company, General Motors, filed for bankruptcy protection.
In December, Beijing Automotive Industry Holdings Co Ltd agreed a deal with GM to buy production equipment and intellectual property related to two Saab models - the 9-5 and 9-3 - including powertrain technology and tooling.
Geely was also the first to kick-off the nation's overseas acquisitions in 2010 by signing a primary agreement with Ford to buy its Volvo division last week.
Although Chinese automakers have been ambitious in purchasing global assets and brands, analysts warned companies must be cautious with merger and management after the acquisitions.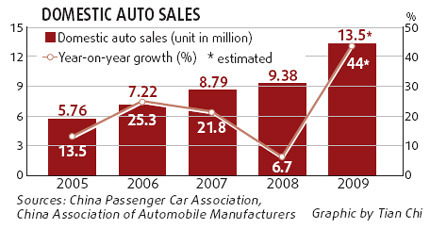 (China Daily 01/12/2010 page6)