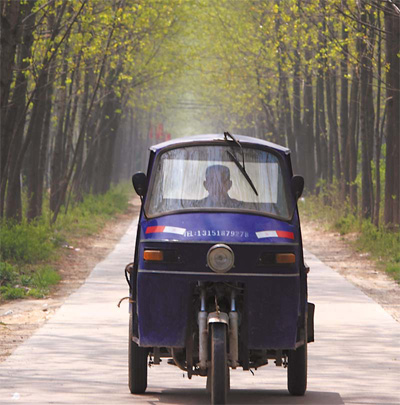 A familiar site in China's countryside but not for much longer as farmers turn to four-wheeled forms of transport thanks to generous government support. CFP
Rural communities benefit from generous government allowances
Zhang Jilong's new year resolution is to buy a light-duty truck, taking advantage of the government's stimulus measures on vehicle purchase in rural regions.
"I didn't expect the government to prolong the favorable policy and raise the subsidy," said the owner of a small brickyard in Yancun village, Weinan, Shaanxi province.
"But thanks to it, purchasing a light-duty truck to replace my three-wheeled carrying vehicles will be a good buy." Zhang bought a Hafei Minyi minivan last May, saving more than 4,000 yuan, thanks to the government subsidy from the 30,000 yuan deal.
"I hesitated for two years over whether I should change the old three-wheeled vehicles. Now, a golden opportunity has come along," he said.
Zhang said that since the government launched the policy to encourage farmers to buy vehicles last March, more than half of his fellow villagers have rushed to dealers to buy cars, minivans or light trucks.
"In recent years, farmers' incomes have increased rapidly," he said. "They have almost doubled. We can afford new vehicles and can consider replacing the outdated and unsafe three-wheeled farming machines we have been using. For us farmers, several thousand yuan is a fortune, and also the tipping point in helping us make a decision."
Xu Wangju, who has a 15-mu orchard in Liquan, Shaanxi province, a famous apple growing area, said: "In the past, the three must-haves for marriage in the countryside were a television, refrigerator and washing machine. However, when the government last year began to subsidize the auto industry heavily, vehicles became popular as betrothal gifts in our area.
They suggested a bright future after marriage.

"It makes a huge difference. Instead of waiting here at our orchards for the fruit dealers, we now transport the apples directly to the wholesale market. The difference in price can be more than 300 percent.
"Although we will have spent money on buying a vehicle, we earn much more profit through this convenient and direct transportation. This initiative also helps us farmers get out of our villages."
Last January, the central government announced that it would provide 5 billion yuan to subsidize rural residents' automobile and motorcycle purchases by 10 and 13 percent respectively of the total price.
The government also halved purchase tax on vehicles with engines of 1.6 liters or less. They make up more than half of the market and are mainly bought by people living in the countryside.
In March, the Ministry of Finance issued an order that farmers who buy light-duty trucks and minivans from March 1 to Dec 31 should get a 10 percent discount, with a subsidy ceiling of 5,000 yuan.
Further subsidies of 2,000 and 3,000 yuan respectively can be used to replace old three-wheeled and four-wheeled farming vehicles with small, 1.3-liter or less engines.
The stimulus immediately boosted auto sales across China's vast rural regions and gave the country's auto industry a shot in the arm.
It helped China's automobile sales to exceed an unexpected 13 million units last year, enabling the country to surpass the US as the world's biggest auto market.
In the first 11 months, domestic minivan sales surged more than 80 percent year-on-year. It was the fastest growing segment of China's automobile industry.
Analysts forecast that the total sales of minivans, the model most subsidized by the government, would reach 2 million units for the whole of 2009.
Industry analysts also predicted the trend would continue this year with an increase of at least 15 to 25 percent on last year.
"We have never before experienced as good a time as last year," said Xiao Zhang, a salesman for Changhe minivan in Xianghe, Hebei province.
"The policy changed our sales behavior from heavily promoting our products to just waiting here in the dealer stores for the customers to stream in."
Xiao told China Daily that sales in his store more than doubled in 2009 from a year earlier.
"Although we saw on the television that the automobile industry suffered a tough year in the West, brisk sales here in China provided me with a busy but happy year with the highest salary and bonus since I sold my first vehicle three years before," he said.
Having witnessed the results of last years' rural auto sales on the back of the stimulus package, the central government decided in December that China would extend the measures until Dec 31, 2010, with small adjustments, to further support the world's biggest and fastest-growing vehicle market.
The purchase tax for smaller cars will be lifted slightly from the current 5 percent to 7.5 percent of the total vehicle price.
Furthermore, the government also decided to raise the subsidy for trade-in cars from between 3,000 and 6,000 yuan in 2009 to between 5,000 yuan and 18,000 yuan per vehicle this year.
"The revised policy with subsidies increased on such a big scale will definitely boost the new vehicle sales this year, because the almost 20,000 yuan subsidy for trade-in will attract more old vehicle owners to replace their outdated motors," said Jia Xinguang, an independent auto analyst based in Beijing.
"More significantly, the policy which encourages people to replace outdated vehicles with high emissions and unstable driving performances will contribute more to China's appeal for a high fuel-efficiency and low-emission green society forwhich the automobile industry shoulders heavy responsibility," said Yale Zhang, director of Greater China Vehicle Forecasts for the US auto industry consultancy CSM Worldwide.
Win-win situation
The stimulus measures helping farmers to buy vehicles not only lifted the living standard for rural residents, but also boosted business for automakers across the country.
"It's especially favorable for China's homegrown auto brands which provide relatively low price vehicles," said analyst Jia.
Central China's Anhui province, where many domestic automakers, such as Chery and JAC are located, has been one of the regions to benefit most in the auto sales promotion campaign last year.
Official statistics show that in the first nine months, the province sold more than 137,000 vehicles to rural residents, with a total revenue of 4 billion yuan and government subsidies of 180 million yuan.
Driven by the favorable policies, the total vehicle sales in Anhui province are expected to exceed 800,000, bringing the sales revenue close to 100 billion yuan.
Last month, SAIC-GM-Wuling, GM China's mini-commercial vehicle joint venture with SAIC and Wuling Motors, announced that it had become the first Chinese automaker to sell 1 million vehicles in a single calendar year with a year-on-year increase from 2008 of 63.9 percent to 1.06 million units.
It is on track to remain China's mini-commercial vehicle sales champion for a fourth consecutive year.
The Wuling brand was also the first domestic vehicle nameplate to achieve annual sales of 1 million units. With sales of 596,630 units, the Wuling Sunshine, a popular minivan in China's rural regions, set a Chinese industry record for annual sales of a single model.
"One of the primary reasons for our record sales is the Chinese government stimulus policy, which is encouraging rural residents to upgrade from farm vehicles to more efficient mini-vehicles," said Yang Jie, general manager of SAIC-GM-Wuling Sales Co.
The success also comes from SAIC-GM-Wuling's vast distribution network across China, especially in rural regions.
By the end of last year, the venture had expanded its sales and service network with 1,300 dealerships, covering 90 percent of cities and 30 percent of counties in China.
Wang Guanwei, a rural resident living in Hexi village, Linshu county, Shandong province, said that in his village, more than 80 percent of the minivans were Wuling branded.
By acquiring the Changhe and Hafei brands in November, in the first 11 months Chang'an Motors sold 725,000 minivans, taking second place to SAIC-GM-Wuling in the sector.
"In December, we sold more than 3,000 vehicles a day, which indicated a robust demand from the domestic market," said Yang Dayong, vice-marketing director of Chang'an Motors. "The strong demand will definitely continue in 2010."
The robust growth has turned Chang'an's financial performance from losses into gains from the third quarter last year. It reported a net profit of 309 million yuan in the third quarter, compared with a net loss of 107 million yuan for the same period in 2008.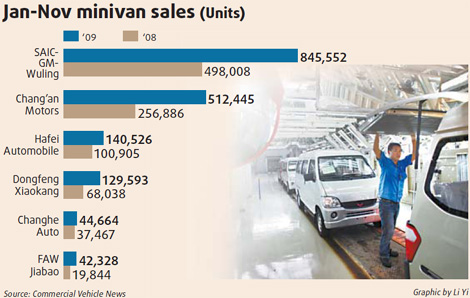 (China Daily 01/11/2010 page13)