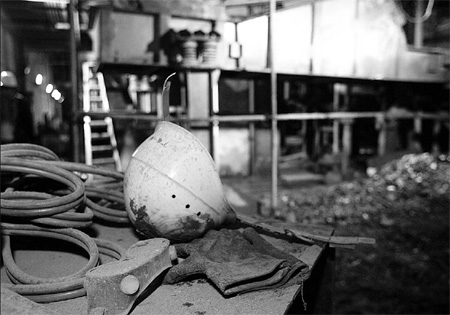 A safety helmet is left at the explosion site yesterday in a garbage treatment plant in Guangzhou, capital of South China's Guangdong province. Five workers were seriously injured in the accident. Xiao Li
GUANGZHOU: Residents in the Gaoming district of Foshan of Guangdong province are opposing the construction of a waste incineration plant in the neighboring district of Nanhai over concerns about their health and the environment.
The industrial waste plant, which will help generate electricity for the existing Jiangnan power plant in Nanhai, will be built about 2km across the Xijiang River, a tributary of the Pearl River.
"Air pollution will flow towards us if the project is put into operation," said Xie Junfeng, who works at a Gaoming telecom company.
"The burning of industrial waste produces pollutants like dioxins that can cause lung cancer and environmental damage," Xie said.
The plant was planned early last year but will be approved only after the completion of an environmental assessment.
Lin Jianbo from Nanhai authorities said the plant is yet to be approved by the higher Foshan and Guangdong provincial environmental protection authorities.
"We'll take a cautious approach to the construction of the plant. All the decision making processes will be made public," he said.
A completed environmental assessment of the project by the South China Institute of Environmental Sciences is yet to be submitted to local environmental authorities.
"We are inviting environmental protection officials from both Foshan and Gaoming authorities to inspect the project," said Lin.
According to the assessment, the plant would produce pollutants including sulfur dioxide, nitric oxide, smoke dust and solid waste.
"But we'll introduce state-of-the-art technology and facilities to minimize pollution," Lin said.
"Pollutants, even just a small amount, will damage our health and environment," a netizen named jiyi wrote on a local website.
The Gaoming environmental protection bureau has submitted a report to its counterpart in Nanhai and the higher Foshan authority, saying most pollutants generated from burning industrial waste would bring negative effects to the district.
(China Daily 01/08/2010 page5)