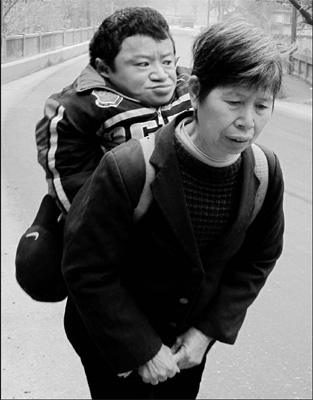 Xiong Mingqiang, born with a deformity, is carried on his mother's back. Wang Huazhong
Unlike most people who connect the image of a loving mother with a smiling face, Xiong Mingqiang visualizes the pair of thin shoulders that have carried him for 35 years.
Born with a deformity, Xiong's head is disproportionately large for his small 80-cm tall body, which prevents him from even standing up on his own.
The unfortunate man fortunately has a mother who chose to forever shoulder him in a bamboo basket, caring for him and keeping him in touch with the world outside of their timeworn earthen house.
"This is probably the 20th basket I've sat in, after the others broke," said 35-year-old Xiong, who weighs 23 kg.
About 8 am yesterday morning, his mother's arm wrapped Xiong's chest and back in order to lift him up and slowly drop him in the basket placed on a stool. She will walk about 1 hour from their home in Taluo village to the nearest bus stop for a ride to Xiong's uncle.
Wen Qizhen's upper body bows deeply forward to keep her balance while walking. Whenever she encounters a slope or stairs, she has to push both hands against her knees to give them extra strength.
"I have carried Xiong outside since he was born. They said calcium deficiency might have led to his condition and basking in sunshine was good for him, so I did it," Wen said without much expression.
Xiong was brought up in three damp, dingy rooms in the Taluo mountain village, Nanpeng county, southwest of Chongqing municipality.
"But we were later told that he is deformed, which sentenced Xiong to being unable to stand up for life. Many neighbors have suggested I abandon him for his own sake as well, but how could I ever do that?" said Wen.
She said since then, she knew the child needed to be helped for the rest of his life.
"I think every mother would do the same thing."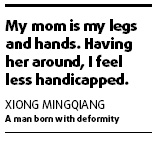 Xiong's father and two younger brothers were either busy with farm work, or migrated to other provinces to provide a livelihood, so his mother is the one who helps him with his daily necessities.
She also often carries Xiong to visit relatives, go to village fairs or other events to "widen his views".
"Because I'm dying to see what's there outside. If I had sealed myself up in home without learning, I would even be mentally disabled," Xiong said with his twisted short arms on the basket.
A neighbor of theirs said Wen used to carry Xiong for 6 km after work to watch television in her home every day for more years than she could count.
"My mom is my legs and hands. Having her around, I feel less handicapped," said Xiong.
With the face of an adult, Xiong continues to travel in his mother's basket, regardless of others' looks "mostly tainted with curiosity or scorns".
Crawling and sometimes hiding behind his mother's back, Xiong said he is more familiar with the aging woman's shoulders than her face.
"I've seen close up her hair turning gray and back bending even lower. I've become very uneasy that one day she might pass away and leave me alone," he said.
"But at that time, I will feel more sad for not having done anything to pay her back - all I can do is to sit and move my lips."
"For now, I would rather stay in than ask to be moved outside - to lessen her burden," Xiong said, patting his mother's shoulders in a way to "massage" her.
But his mother thinks differently.
"As long as I have one last breath, I'll keep carrying him and letting him enjoy every day," Wen said.
(China Daily 01/08/2010 page2)