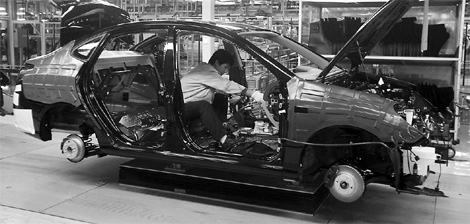 A Beijing Hyundai Motor Company employee works on a Hyundai Elantra vehicle on the assembly line at the company's new plant in Beijing. The company said it expects 2009 car sales in China to reach 800,000 vehicles. Bloomberg News
Hyundai Motor Co and affiliate Kia Motors Corp aim to increase global sales 17 percent this year helped by new models and a strong jump in China market sales.
South Korea's largest automakers are targeting combined sales of 5.4 million vehicles worldwide, Hyundai Chairman Chung Mong-Koo said in Seoul yesterday in a speech to employees. That compares with an estimated 4.63 million units sold in 2009.
In China, Hyundai sold 460,000 cars in the first 10 months of 2009, up 89.3 percent from a year ago. Kia's sales were up 55.3 percent during the same period.
Hyundai and Kia expect sales in China 2010 to grow 25 percent from a year earlier to hit the 1 million mark.
According to Noh Jae-man, president of Beijing Hyundai Motor Co - Hyundai's Chinese venture with Beijing Auto - the company expects to sell 670,000 cars this year, up 17.5 percent from a projected 570,000 in 2009.
To reach the projected growth targets Beijing Hyundai is planning to build its third plant, which will increase the venture's production capacity to 900,000 vehicles. The new facility is scheduled to be finished by the end of 2011.
Kia Motors Corp forecast it will sell 330,000 cars in China this year, 43 percent more than an estimated 230,000 vehicles in 2009. Kia also operates two plants in China under the joint venture known as Dongfeng Yueda Kia Motor.
The world's fifth largest automaker Hyundai-Kia said last month it expects car sales in China in 2009 to surge 83 percent to 800,000 vehicles.
Growth will continue as the companies add new models - like the revamped Sonata sedan - and auto demand recovers, said Sohn Myung-Woo, an analyst at Woori Investment & Securities Co in Seoul.
"I don't see any major risk or challenge for Hyundai this year," Sohn said. "Strong products, favorable currency trends and aggressive marketing efforts should spur sales and earnings in 2010. Their market share will also continue to grow."
Japanese rivals Toyota Motor Corp and Nissan Motor Co have also increased forecasts amid a recovery from the worst recession since the great depression.
Nissan last year raised its global sales forecast for the year ending in March to 3.3 million units from 3.08 million. Toyota increased its fiscal 2009 target in November to 7.03 million vehicles from 6.6 million.
Hyundai and Kia boosted their global market share to a record last year on demand for smaller more fuel-efficient cars, and aided by a weaker won. That allowed them to spend more on marketing, Sohn said.
"We turned a crisis into an opportunity last year," Chung told employees yesterday.
Hyundai and Kia held a 9.9 percent market share in China in the first nine months of 2009, up from 8.1 percent a year ago.
China Daily-Agencies
(China Daily 01/05/2010 page14)