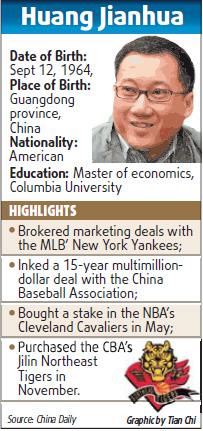 WUHAN: Guangdong-born businessman Huang Jianhua, is making the most of his fortune by building up a sports empire at whirlwind speed.
First, he led a Chinese investment group in buying a 15 percent stake in the NBA's Cleveland Cavaliers in May. Then, after landing a mega-sponsorhip deal for his CBA club, the Jilin Northeast Tigers on Tuesday, he unveiled a new basketball magazine yesterday.
"I will definitely step up my efforts to expand the sports market in China. This is not the end," said Huang, who also goes by the name of Kenny Huang in the US.
"I love basketball and I have many resources concerning the sport thanks to my business in the US. I hope I can bring these resources to China and enhance what I am going to do here.
"My experience in the NBA tells me the sport in China has a great future."
The 45-year-old returned to the spotlight in October after taking over the Tigers, a deal which marked the first overseas investment in the rapidly-developing domestic league.
Huang expressed his ambitions yesterday during the launch of the I-Basketball magazine, his first move into domestic sports media.
He believes owning a basketball publication, which is also partly owned by the Hubei Daily Media Group, is an important part of his marketing strategy as he needs a platform to promote his idea of "entertaining basketball".
"It's a different magazine from others in China. I will link I-Basketball closer to the NBA. I will bring more elements of entertaining basketball to the magazine.
"I have learned a lot from getting involved with NBA clubs. Basketball is not just a sport in the US. It's also much about entertainment and therefore attracts great numbers of people to have fun together.
"By adding all the special elements, I am sure the magazine will be enjoyed by young people and become the No 1 magazine in the sport."
Thanks to Huang's influence, I-Basketball will also be financially supported by domestic brewer Tsingtao.
The ambitious Huang, an investor who has also brokered marketing deals with the New York Yankees baseball team and the NBA's Houston Rockets, has reason to be upbeat about his future market in China.
His club, Jilin, took a big step forward on Tuesday after signing a 12 million yuan ($1.76 million) deal with Chinese tea giant Longrun Tea Group.
It's the biggest investment from a single sponsor into a CBA club so far.
(China Daily 12/31/2009 page24)