Used lights could be discharging mercury, more recycling urged
GUANGZHOU: The widely publicized energy-saving bulbs, which now are a source of light in millions of Chinese households, may well be causing mercury pollution in many parts of the country.
Still, an official of the Guangdong provincial bureau of environmental protection said the department has "not come up with any concrete and effective measure to cope with mercury pollution" so far.
The provincial government has subsidized rates to help promote the use of more than 8 million energy-saving lamps and light bulbs this year.
But Guangdong, an economic powerhouse of the country, has "yet to establish a system to recycle the large number of bulbs and lamps that are disposed of daily", said the official, surnamed Jiang.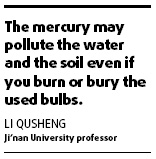 In just Guangzhou, capital of Guangdong, about 650,000 energy-saving bulbs have already been used this year.
If the used bulbs are not recycled, "more than 117 million tons of water will be polluted", said Liu Hong, an expert from the energy research institute under the National Development and Reform Commission, the country's top economic planning agency.
"A single energy-saving bulb usually contains an average of 0.5 milligram of mercury. And 1 milligram of mercury is enough to pollute about 360 tons of water," Liu said, urging relevant government departments to act fast before it is too late.
Li Qusheng, a professor from the Guangzhou-based Ji'nan University, suggested setting up a "special treatment center" that focuses on recycling used energy-saving bulbs in the province.
"China should learn a thing or two from Europe and Japan. They've been quite successful in handling the problem of mercury pollution," the professor told China Daily.
"The mercury may pollute the water and the soil even if you burn or bury the used bulbs, which are hazardous waste," Li said.
Many collection depots in the provincial capital reportedly refuse to recycle disposable energy-saving bulbs, citing low profits from the move.
The chief of one such depot in Tianhe district said he openly refuses to collect and recycle a "small number of these energy-saving bulbs" from households and individuals.
"We recycle at least 500 bulbs at a time," said the depot chief surnamed Zhang.
"These bulbs are collected from big companies and organizations."
"We earn just about 40 yuan ($5.85) from selling a ton of those used bulbs to glass recycling agents," he said.
"The profit is low if you compare the margin we get from recycling other waste products."
NVC Lighting Technology Corporation, based in Guangzhou, is said to be one of the few companies that aims to recycle energy-saving bulbs as part of efforts to protect the environment, even if it means incurring financial losses.
"It is our social responsibility to recycle the waste," said Wu Changjiang, the company's president.
Wu said his company is recycling used energy-saving bulbs even if the products are not NVC-produced.
Chen Yifei, in charge of NVC's brand promotion, said his company has also set up a collection depot in Zhejiang province to help recycle waste bulbs.
The country has already subsidized more than 600 million yuan to promote the use of about 120 million energy-saving bulbs this year, with an aim to saving 6.2 billion kilowatt hours of electricity, or an electricity charge of 3.1 billion yuan.
Apart from Guangdong province, many regions on the Chinese mainland promoted the use of energy-saving bulbs this year.
Hainan, the country's southernmost province, reportedly introduced more than 1 million energy-saving bulbs this year alone.
Similarly, in Zhengzhou, capital of Henan province, more than 700,000 of the energy-saving bulbs had been sold by the end of September. More than 1.4 million such bulbs were reportedly used last year.
(China Daily 12/31/2009 page5)